This week marks the last two chances to see Towngate's season opener, Tennessee Williams' The Glass Menagerie.
The cast is superb, and Towngate Theatre and our local community are fortunate to have talented people who give their time to the arts and enrich our lives with their gifts.
Jamie Stout is one of those people, and she is sharing her talent with us. Originally from Moundsville, Jamie is making her debut performance on the Towngate Stage in The Glass Menagerie. She plays the role of Laura, an excruciatingly shy woman with a slight physical handicap.
Jamie is a 2015 graduate of Mount Vernon Nazarene University where she studied music and theater. During her studies, she read The Glass Menagerie. Her familiarity and appreciation of the play influenced her decision to audition for Towngate's production.
"I wanted to do this play because I love it so much," Jamie said. "I read it for one of my theater classes, and I was just struck by how incredible the writing was. There's a reason Tennessee Williams is considered one of the greatest playwrights of all time."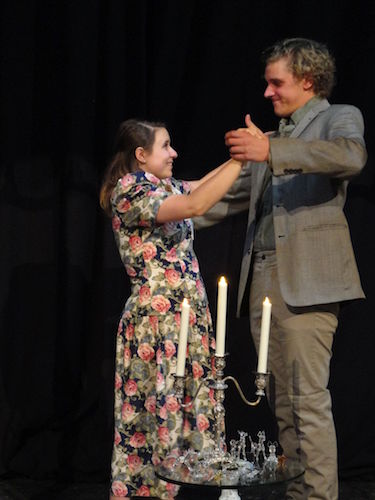 Jamie said that she thinks that modern audiences can still relate to the play, through its emotional core and humor.
"I love that despite all the drama of the The Glass Menagerie, it's a play that can still make audiences laugh," Jamie said.
In addition to Jamie playing the role of Laura, three other fantastic actors round out the cast.  Brendan Sheehan plays Tom, Laura's brother (Click here for a Spotlight on Brendan). Cathie Spencer plays Amanda, Laura and Tom's overbearing mother. And Michael Wylie plays the role of Jim O'Connor.
Jamie said that the character of Laura is someone with whom she can relate.
"I relate to Laura on a ridiculous level," Jamie said. "My first year or so at college, I developed a really crippling social anxiety that I'd never had before. I could not talk to anyone except for maybe two or three girls I felt comfortable with."
It was through Jamie's work in theater that helped her with the anxiety.
"I decided to audition for a play my junior year, and I got cast as kind of the school floozy," Jamie said. "So of course, I had to go around flirting with all the guys in the cast, which brought my social confidence way, way up. My social anxiety is still something I'm working on today, but I'm so happy to be in a much better place. Maybe Amanda just needs to force poor Laura to audition for a play."
GET TICKETS
You, too, can experience The Glass Menagerie, one of the most famous plays of modern theater at Towngate.
There are two performances left, September 23-24. Tickets are on sale now. Purchase in advance at OIonline.com or by calling 304-242-7700. You can buy tickets at the door, too. Admission is $12.50/$11 OI members.