Basket Weaving with the Bumbling Artist
By Laura Jackson Roberts
Have you ever taken the time to look at a basket? I haven't. A basket is a lovely, handy thing that we all take for granted. I have one made of palm fronds that I put dinner rolls in. But most of us never stop to think about the process by which a basket comes into being. Somebody sat there for hours and hand-wove those fronds into the receptacle for my croissants. Machines do not weave baskets; people do.
Selena Straughn is a self-taught basket weaver. She's spent her life involved in all manner of crafts, but she really took to weaving. She's now a member of the West Virginia Basket Weavers Association and the Mound Weavers Guild (of Moundsville). She teaches weaving at the Moundsville WVU Extension Office. The question is, can she teach me?
My writing buddy Rich happens to be in the class too. Together we wet our materials and lay out our spokes and weavers, the pieces that run in vertical and horizontal directions, respectively. Though it's a little tricky to get started, Selena works with us until we reach the point where we can do it on our own. Once we've established a few rows, the process becomes relaxing, almost hypnotic.
I understand, now, both the appeal of weaving and the camaraderie it engenders. Conversation flows naturally and before we know it, we've both woven ten rows. Next, Selena teaches us how to lash the top of the basket together. As the baskets dry, she demonstrates how to weave simple, decorative Indian corn. Our last step, after three relaxing hours, is to decorate our pieces. This is actually the part that intimidates me.
Function and Beauty of Weaving.
In the past, I've hesitated to sign up for OI's art workshops because I feel so out of my element. Like ninth grade geometry, crafts don't click in my brain, and I admit this to Selena. She says that weaving instructors are as varied as any other group. Some enjoy the process of creating patterns in the weave. Some really appreciate color.
"I just like my baskets to be functional," Selena tells me. In other classes, she's helped students weave canisters, picnic baskets, and tote baskets. She's very talented and the baskets are beautiful, but she wants her students to find real-life uses for their weaving. "If it's only a decoration," she adds, "you'll just have to find a place to store it."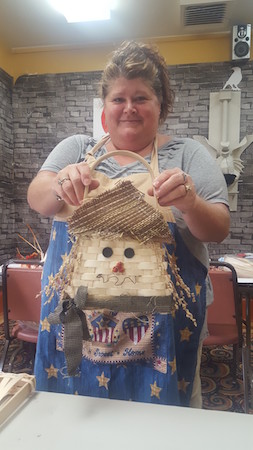 Granted, we are making a fall decoration today (a larger basket would take eight hours), but in keeping with her penchant for function, she suggests that we eschew hot glue when it comes time to add seasonal decorations. She helps me tie an autumnal ribbon around the basket and shows me how I can remove it in December to add pinecones, holly, or a red bow. Brilliant.
OI Instructors Make it Easy to Create.
Last year Oglebay Institute asked me to attend some craft workshops and blog about them. I admit that I write a lot about how much I stink at artsy, crafty things. At first, it was a funny hook to get you to come to the blog: Come read about the goofball who glued her thumb to her forefinger in wreath-making class. (That actually happened, by the way. You can read about it here.)
But there's truth in my words: unless I have a teacher giving me step-by-step instructions, I'm lost. I have no creative ideas whatsoever. And yet, as much as I rely on my bumbling attempts at art to relate to my readers, I have to admit that the Oglebay Institute instructors make it pretty hard to screw up. I'm not ready for Selena's advanced weaving class. Heck no. But I came home with a cute basket and adorable woven corn. Yes, it kind of looks like a banana. It's never going to win any prizes. What's so wrong with that?
Upcoming Craft Workshops
This fall, you can find many more opportunities to create a seasonal craft at the Stifel Center:
Thursday, October 6, 6:30-8:30pm: Ceramic jack o'lantern workshop. BYOB and snacks provided.
Saturday, October 15, 12-4pm: Stained glass pumpkin workshop.
Thursday, November 3, 6:30-8:30pm: Christmas wreath workshop. BYOB and snacks provided.
Thursday, November 16, 6:30-8:30pm: Bow making workshop.
In January, you can learn the art of wood burning. In March, silk screen a t-shirt. Beach wreaths in May. Looks like I'm out of excuses.
Please visit OIonline.com for a full list of upcoming craft workshops.