Oglebay Institute's Towngate Theatre opens its 50th season of community theater with the Pulitzer Prize and Tony Award winning play "The Diary of Anne Frank" by Frances Goodrich and Albert Hackett.
You can see the show for two weekends –September 21, 22, 23 & September 28 and 29.
One of the most famous and haunting stories of the 20th Century, the play brings to life the memoirs of a young Jewish girl who was forced to hide in an attic for nearly two years to escape Nazi persecution. As relevant today as when it was first written, Anne Frank's diary is an essential part of how we remember one of the darkest periods in human history.
The Tragic Story of a Young Girl Amidst Fascism and Hatred
It is no secret that "The Diary of Anne Frank" does not end happily. Anne was finally captured by the Gestapo and sent to a concentration camp where she died at the age of 15. But during those two years in hiding, Anne wrote her story and urged us to stand up for one another in the face of intolerance, fear and hated.
Following the war, Otto Frank received Anne's diary from his secretary, who had saved it. He worked to get her writings published, and, in 1947, "The Diary of a Young Girl" was released. Her writings are a record of optimism, anticipation and, above all, life. Since its publication, the book has become a symbol of hope and resilience that has been translated into dozens of languages.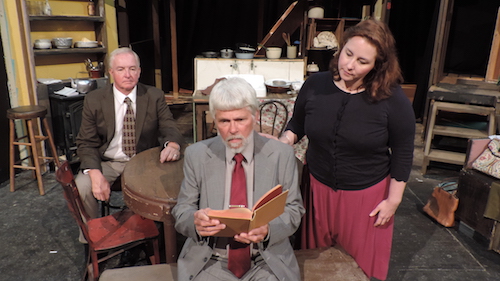 Goodrich and Hackett wrote the dramatization of the book, and it premiered on Broadway in 1955. After opening, the play won multiple awards, including the Tony Award for Best Play and the Pulitzer Prize for Drama.
The play is set behind the offices where Otto Frank worked in Amsterdam, in a secret annex where the Frank family is hiding from the Nazis. The Van Daans, another Jewish family, share the cramped space with the Franks. Before long, they must take in Mr. Dussel, a grumpy dentist. The heroic Miep Gies and Victor Kraler, who hid the families, visit and provide food and information.
Towngate's Production of "The Diary of Anne Frank"
Directed by Dave Henderson, Towngate's production captures the life that Anne recorded in her diary – the claustrophobic realities of daily life; the fear, hope, laughter and grief the families shared and her complex coming-of-age story amid war and religious persecution.
Taylor Andrews plays Anne Frank. Emily Bench is Margot Frank. Walt Warren plays Otto Frank and Cathie Spencer is Edith Frank.  Rob DeSantis has the role of Mr. Van Daan and Maria McKelvey is Mrs. Van Daan and Adam Marquart portrays Peter Van Daan. Evan Oslund is Albert Dussel.  Jim Showalter is Mr. Kraler and Elizabeth Jeffers plays Miep Gies.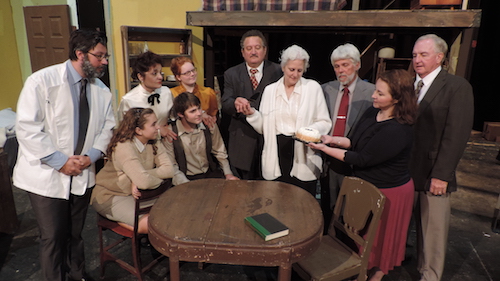 Oglebay Institute director of performing arts Tim Thompson said Towngate decided to produce this show because "the more people are aware, the less chance this will happen again. Like it says at the Holocaust Museum in Washington D.C.: 'Remember what you saw.' When seeing our production…remember what you saw."
Thompson also said many middle school students in the area study this play as part of their curriculum and "it's a great opportunity for them to see it onstage."
This is the first play of Towngate's 50th season, which is sponsored by Unified Bank. Other upcoming shows include: "Miracle on 34th Street," "The Shaughraun" and "Our Town." Visit www.oionline.com for show dates and details.
About Towngate
Towngate is the premiere venue for community theater in Wheeling. The theater provides an intimate theater experience with talented local actors performing in a variety of though-provoking, heartwarming, comedic and historically significant works from renowned playwrights and talented newcomers.
A church-turned-theater, Towngate is located in Wheeling's historic Centre Market District. In addition to community theater, Towngate also offers poetry and spoken word performances. You can watch children's theater, too.  Attend a ballet. See improvisational comedy and live music. Towngate is also home to the Wheeling Film Society. View changing art exhibitions on display in The Gallery at Towngate. Theater classes for children and adults are also offered year-round.
Get Tickets
Evening performances of "The Diary of Anne Frank" take place at 8 p.m. September 21, 22, 28 and 29. A matinee performance takes place at 3 p.m. Sunday, September 23.
Purchase tickets for this show or any Towngate show in advance at www.oionline.com or by calling 304-242-7700. If available, you can also purchase tickets at the door.