TOWNGATE THEATRE PRESENTS "THE PIED PIPER OF HAMELIN"
WHEELING, W.Va. (October 11, 2016) – -Oglebay Institute will stage "The Pied Piper of Hamelin," a lively adaptation of the well-known German folktale, at 3 p.m. Saturday, October 29 at Towngate Theatre.
Packed with comedy, action and adventure, this imaginative children's show is fun for all ages. Kids enjoy the colorful and entertaining characters. They also learn lessons on the importance of being honest and keeping your promises. There's plenty of audience participation, too. Children in the audience are assigned "roles." Some will portray mice, townspeople or children of the village, who respond to cues during the play.
Families can stay after the show for a Q & A with the cast.
In addition to being entertaining, the show introduces young children to the joy of live theater, imparts life lessons and promotes literacy and creative thinking.
The October 29 show is the only public performance of the production, which has traveled to more than a dozen area schools in four counties as part of Oglebay Institute's educational outreach program.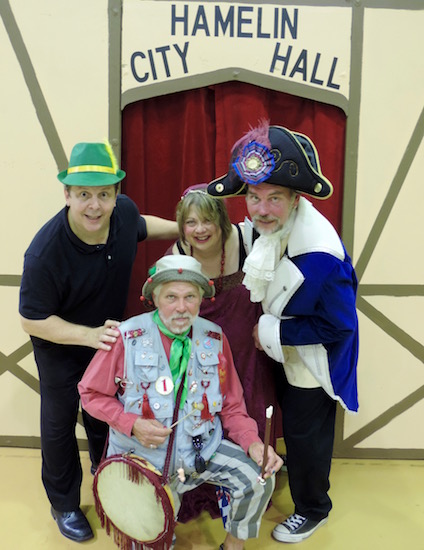 "Plays ignite the imagination and bring stories to life. Words and characters jump from the page to the stage, connecting children to the importance of reading," said Towngate Theatre director Tim Thompson. "They learn valuable lessons, too. Theater teaches skills such as empathy, critical thinking and teamwork."
Thompson added that theater also instills a passion for dreaming in ways that television and movies can't.
"Kids watch the actors working together onstage. They see that real people are behind entertainment and realize performers are not just images on TV or computer screens. Live action happens right before their eyes. There's no app for that."
Cassidy, Cogan, Shapell & Voegelin, L.C. sponsor the October 29 performance of "The Pied Piper of Hamelin," which is part of Oglebay Institute's Children's Theater Season.
Get Tickets
Make reservations at www.oionline.com or by calling 304-242-7700. For those buying seats at the door, Towngate's box office opens one hour before all shows and can be reached at 304-233-4257. All tickets are just $8.
Located in Wheeling's historic Centre Market District, Towngate is a cornerstone of creative life in Wheeling and serves as an entertainment destination for residents of the Ohio Valley and beyond. People of all ages and backgrounds gather here to create and experience art onstage. Most of all, Towngate celebrates the essential power of theater to illuminate our common humanity. The community enjoys and participates in hundreds of live performances, classes and workshops year-round.