Have you seen Oglebay Institute's Youth Ballet Company's performance of the Peter Pan ballet at Towngate Theatre yet? It opened on Saturday, and this enchanting production is sure to dazzle and amaze the entire family with its captivating dances of original choreography, the popular songs and all your favorite Neverland characters.
One of the dancers in the company is Peter Lim, an Ohio native and current resident of St. Clairsville. A Computer & Technology Specialist at Ohio University Eastern, Peter has been involved with dance through Oglebay Institute for 20 years. Initially a student, Peter's role and participation at the School of Dance has increased over the years, helping in multiple ways as well as serving as the current ballroom dance instructor for OI.
Peter dances the role of Mr. Darling in Towngate's current production of the Peter Pan. He took some time to answer a few questions for us.
Towngate Theatre: How did you first get involved in dance?
Peter:  I did a few musicals in college and found out that I had a little bit of talent in dancing (or at least that I was a better dancer than most of the other guys). I enjoyed performing in the musicals a lot, so I wanted to take some more dance classes (especially tap dancing) in the hope that knowing how to dance would help me get larger roles in shows. I also decided to take ballroom dance lessons. Because it looked fun, I thought it might be a good way to meet people. I've considered myself a Renaissance man, with knowledge and skills in a lot more areas than just my work, so learning to ballroom dance seemed like something to add to my repertoire since you don't see many people ballroom dancing much anymore. And it's a shame because it is really quite fun!
Towngate Theatre: What type of dance do you do?
Peter:  I've sampled almost every kind of dance class that Oglebay Institute has offered, except for hip-hop and belly dancing. So I've taken tap dancing, Irish step dancing, jazz, ballet and ballroom dancing, which includes foxtrot, waltz, swing, cha-cha, tango and more. I've also done a little bit of salsa dancing, and I'm trying to get regular salsa classes at OI next year, in addition to the ballroom classes.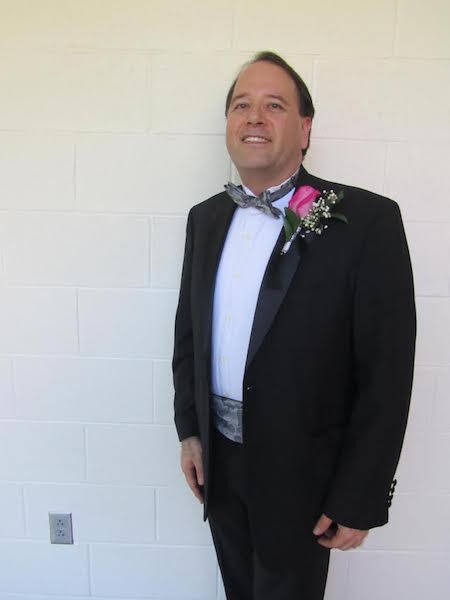 Towngate Theatre: What is it about dance that you like?
Peter:  Most of my day job is very technical in nature, and dancing normally isn't technical in nature. Well, dancing is actually very technical in nature, but it's a different kind of technical than computers and math and science. Dancing lets me use different parts of my brain and my body in expressing myself. Tap especially is fun because you get to make noise with your feet!  And ballroom dancing is a lot of fun because it can be very smooth and elegant or fast and bouncy, and you learn how to connect and communicate with people in a different manner. And it's very good exercise. Some of the times that I've gone ballroom and/or swing dancing, I've been wearing a FitBit, and I've easily added on over 7,000 steps in 3 hours, but afterwards I didn't feel the boredom of having exercised.
Towngate Theatre: What should people know about this production?
Peter:  The Peter Pan ballet is probably the School of Dance's biggest, most ambitious production yet, but it still has the characters that parents and kids know from the storybook and the animated film, and it's full of dancing! Tinkerbell is flitting around the stage, Captain Hook and the Crocodile are very funny, and Peter Pan flips and jumps around the stage. It's amazing to see!  I've been doing these ballets for many years now, and I'm still amazed at just how good these young women are as dancers!
Towngate Theatre: Now the fun questions. Do you have a favorite ballet or musical?
Peter:  That's a tough question because it's difficult to limit it to just one show. I love 42nd Street because it's filled with tap dancing; Wicked has some amazing effects and great music; Mamma Mia for the fun ABBA music; A Chorus Line for the great songs and a story for those of us who have been involved in dance and musical theater, but non-dancers and non-theater people can relate to it as well; but if you want to pin me down to one show, then it's probably Les Misérables, with its songs and story about love, family, struggle, unrequited love, integrity, and sacrifice. If you don't leave Les Mis with tears in your eyes and an uplifted heart, then you have no soul. (Or at least that's my opinion.)
Towngate Theatre: Do you have a dream role?
Peter:  Oooh, another tough one. Probably Jean Valjean or Javert in Les Miserables, although I'd also love to perform in some of the classic musicals, like The Sound of Music (as Captain von Trapp) or South Pacific (as Emile de Becque), but those opportunities are very rare.
Towngate Theatre: Thanks, Peter! And break a leg!
GET TICKETS
Two more performances of Peter Pan are scheduled – 3 p.m. and 7 p.m. Sunday, October 23. Tickets for the show are $12.50/$11 OI members. Children 10 and under are $10/$8.50 OI members. Purchase in advance at OIonline.com or by calling 304-242-7700.  Some seats may be available at the door; however all previous shows have sold out.  Purchase in advance or call ahead to avoid being disappointed.