Oglebay Institute's Towngate Theatre welcomes the holidays with the heartwarming show "Yes, Virginia, There is a Santa Claus."
You can see this holiday classic December 2-4 and December 9-11.
This century-old tale was inspired by true events and is set in action when an eight-year-old-girl writes a letter to the editor asking about the existence of Santa Claus. Her letter and the reporter's response prompted one of the most famous newspaper editorials of all time.
Every December Towngate stages a holiday production that is family-friendly and captures the spirit of the season.
This year's production certainly fits the bill.
It's a classic tale of faith, hope, Christmas magic and the human capacity to believe, and it's perfect for local families looking for a holiday production appropriate for all ages.
On Christmas Eve, 1897, in New York City, eight-year-old Virginia is left wondering whether or not Santa really exists. With innocent wisdom, she seeks help from the source most trusted by her father, the  "New York Sun." A down-on-his-luck newspaperman is charged with writing a reply.
His historic response becomes an iconic commentary on the human spirit and the true meaning of Christmas. It has become history's most reprinted newspaper editorial, appearing in dozens of languages in books, movies, other editorials, and on posters and stamps.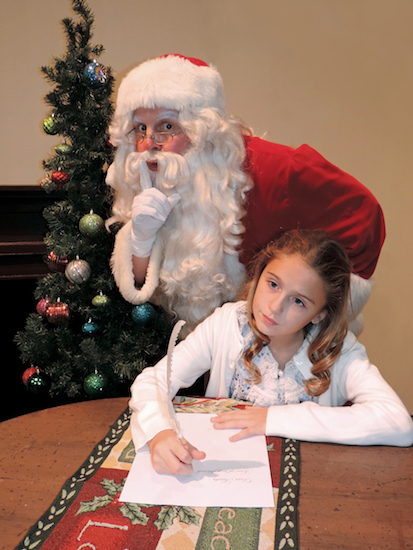 P.D. Gregg directs the show and more than 30 Ohio Valley residents perform in the production.
About six years ago Towngate added a holiday show to its season of community theater. Each year attendance has grown, and the production has a become a tradition among OI patrons.
Enjoy some holiday cheer!
Evening performances of "Yes, Virginia, There is a Santa Claus" take place at 8 p.m. December 2, 3, 9 and 10. Matinee performances take place at 3 p.m. December 4 and 11.
Enjoy pre and post performance receptions in Towngate's lobby, which will be decked for the holidays. Enjoy holiday cookies and punch. You can mingle with cast members, too. Come early and stay late. Most importantly, enjoy some holiday cheer with Towngate actors and staff.
Get tickets.
Due to the popularity of the show,  we recommend making advanced reservations. Purchase tickets at www.oionline.com, or you can call 304-242-7700.
Enjoy theater & more at Towngate …
Towngate is the premiere venue for community theater in Wheeling. Talented local actors perform in a variety of though-provoking, heartwarming, comedic and historically significant works from renowned playwrights and talented newcomers.
Area residents can also attend poetry and spoken word performances, children's theater, ballet, improvisational comedy, cinema and live music at Towngate. Children, teens and adults enjoy year-round classes in theater and performing arts.