WHEELING, W.Va. (April 25, 2016)- -Towngate Theatre's most recent production captures the love and backstage lore of life on stage. Ronald Harwood's "The Dresser" celebrates the art and heart of the theater and illuminates the power that theater has to lift the human spirit in times of great strife.
Directed by Maribeth Thompson and featuring a very talented cast of community theater veterans, the show opens May 6 at Oglebay Institute's Towngate Theatre and continues for two weekends.
"The Dresser" tells the story of one fateful night in a small regional theatre during World War II. As Britain is under attack from German aircraft, a group of traveling, ragtag Shakespearean players tours the English countryside performing the Bard's tragic masterpiece – "King Lear." Sir Donald Wolfit, the last of a great breed of English actor/managers, is in a bad way. As he prepares to play his 227th performance as Lear, he suddenly realizes he cannot recall his first line. It is only his dedicated and loyal dresser, Norman, who would do anything to help the aging performer, that can bring the once-great actor to the stage for a final curtain call.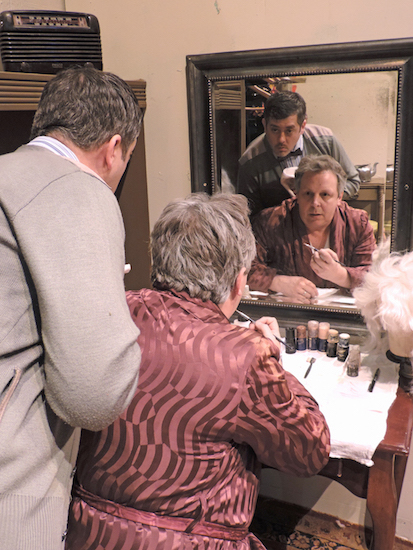 "The Dresser" was first produced in 1981 and was nominated for a 1982 Tony Award. It was adapted into a 1983 film, based on a screenplay by Harwood and starring Albert Finney and Tom Courtenay. The film was nominated for five Academy Awards including Best Picture and Best Screenplay.  In 2015, Richard Eyre adapted and directed a BBC film version of the play that stars Ian McKellen and Anthony Hopkins.
Ronald Harwood based much of his play, and its subsequent screenplay, on his experiences as an actor and dresser for renowned Shakespearian actor Donald Wolfit and his Shakespeare Company. Harwood was Wolfit's dresser between 1953 and 1958.
Towngate's production features Vincent Marshall and Tim Thompson starring as Norman and Sir, respectively. Other cast members include:  Dee Gregg, Melody Meadows, Makayla Carney, Walt Warren, Wayne McCord, Jon J. Coffield and Isa Campbell.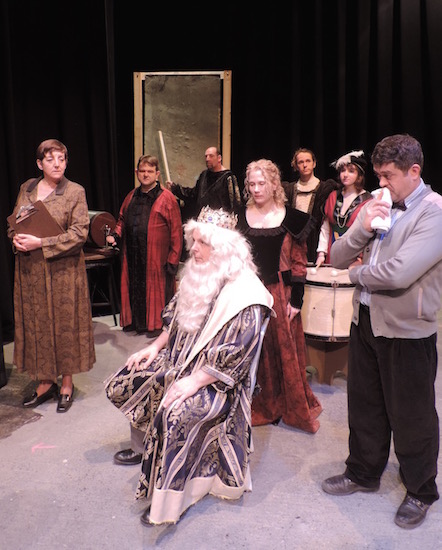 "The Dresser" coincides with the exhibit First Folio! The Book that Gave Us Shakespeare, on tour from the Folger Shakespeare Library in Washington, DC.  Oglebay Institute was chosen as the only location in West Virginia for the First Folio tour through the United States. An original 1623 First Folio and accompanying exhibit are on display May 9- June 12 at Oglebay Institute's Mansion Museum.
Housed in the former Zion Lutheran Church, Oglebay Institute's Towngate Theatre is an intimate and informal venue in the heart of Wheeling's Centre Market District, offering year-round entertainment ranging from community theater and children's theater to comedy and improvisation to live music and cinema. Towngate is dedicated to serving diverse audiences through engaging programming and showcasing the work of local actors, directors, playwrights, poets, musicians and filmmakers.
"The Dresser" will be staged May 6, 7, 8, 13 and 14. Curtain is 8 p.m. Fridays and Saturdays and 3 p.m. Sunday. Tickets can be purchased by calling 304-242-7700, at www.oionline.com or at the door.
# # #