by Laura Jackson Roberts
OI Blogger Explores the First Folio of Shakespeare & Learns Wheeling Connections to the Bard
If you've been listening to the rumblings coming from Oglebay Institute lately, you may know that something big is coming to Wheeling: the First Folio of William Shakespeare.
What exactly is the First Folio?
The First Folio is a book that was printed after Shakespeare's death. According to the Folger Shakespeare Library, "Seven years after Shakespeare's death, John Heminge and Henry Condell, his friends and colleagues in the King's Men, collected almost all of his plays in a folio edition. The 1623 First Folio of Shakespeare … is the earliest folio consisting only of an author's plays."
Folios were expensive to print and therefore were usually limited to history, law, and religious subjects. But thanks to this book, 18 of Shakespeare's plays that had never appeared in print and would have otherwise been lost were preserved, including As You Like It, The Taming of the Shrew, Henry VI, Henry VIII, Julius Caesar, Macbeth, The Tempest, Twelfth Night, and The Winter's Tale. Additionally, the folio includes an accurate portrait of the bard. Though 750 copies were originally printed, only 233 survive today, and each one contains minor differences due to the nature of printing at the time. The First Folio tour will visit all 50 states, and Oglebay Institute's Mansion Museum has been chosen to showcase it here in West Virginia.
I went up to the Mansion Museum to see what's happening behind the scenes. Kelsy Traeger is the curator of museums at Oglebay Institute, and she gave me a preview of what's to come. Though the folio hasn't arrived yet, and the exhibit won't open until May 9, the hardworking crew at Oglebay Institute is busy preparing for its arrival. Of course, when you make your way into the exhibit hall, you'll see the First Folio (on display under a dim light to preserve the ink), but you'll also have the opportunity to explore Wheeling connections to Shakespeare, and I was surprised to learn that there are several.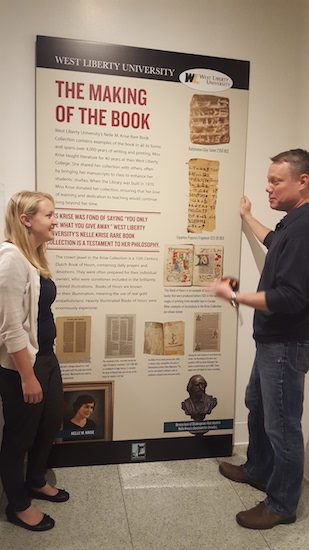 William Leighton, Jr., whose father was a renowned glass chemist and who settled in Wheeling to continue that work, had more than a passing interest in Shakespeare. He wrote several books on the bard and served as president of the Shakespeare Club of Wheeling. Some of his works are on display, as is a publication from an 1875 meeting of the club. You'll also see a publication from a masque that was performed in 1916 in New York City for the 300th anniversary of Shakespeare's death. Kate Oglebay, niece of Earl W. Oglebay, was instrumental in planning that celebration a century ago. Additionally, you'll find local attorney Jeremy Charles McCamic's book, Classic Comic Ridicule in the Comedies of Shakespeare.
You really have to see old books to appreciate them. In addition to the First Folio, the library at West Liberty University has loaned for display a Christian devotional book from the Middle Ages known as a Book of Hours. It's handwritten and was printed before 1501. The illustrations are stunning and brilliantly colored. While a folio is a book in which the paper has been folded in half once, this book of hours is called a quarto; the paper has been folded in half twice.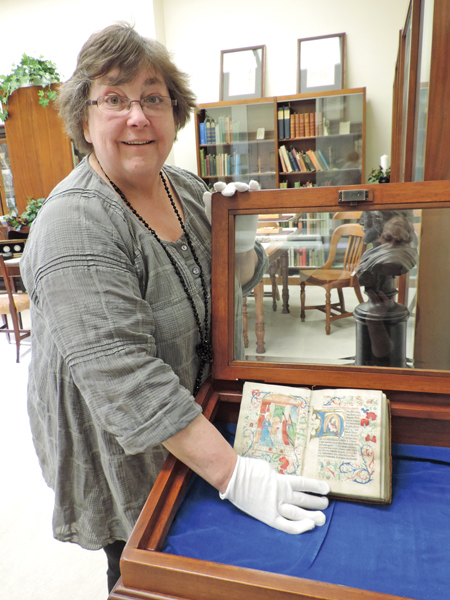 In addition to the displays, children will have a chance to act out Shakespearean scenes with props, and a poetry corner will give visitors opportunities to compose their own pieces.
While you wait for the arrival of the First Folio, you'll want to check out Oglebay Institute's May schedule, as there is something entertaining for everyone. There are a myriad of planned events, but here are a few where you'll definitely find me:
May 7: Enjoy a madrigal dinner including period music, dancing, food, and drink.
May 14: First Folio Family Program: Have Fun with Hamlet. Children ages 6-8 and their families are introduced to Shakespeare through language and activities.
May 21: A Midsummer Night's Dream, performed by Wheeling Jesuit University, Duquesne University's Red Masquers, and Wheeling Central High School.
May 21: ShakesBEER in the Park. Guests will be greeted by a falconer and have an opportunity to sample a variety of beers, along with hand-held meat and cheese pies, turkey legs, cheese and bread. Enjoy sword fights, brawls, games, and short scenes from Shakespeare's plays performed by The Rustic Mechanicals, West Virginia's only touring Shakespeare theater troupe.
May 29: The Rustic Mechanicals perform The Tempest.
For a more complete list of Oglebay Institute's Shakespearean events surrounding the First Folio exhibit, please visit oionline.com/firstfolio.  The First Folio will be on display May 9—June 12 at the Mansion Museum.