Kids Gain Self-Confidence, Explore Creativity and Discover Unique Talents in Youth Acting Classes at Towngate Theatre.
By Laura Jackson Roberts
On the average Saturday morning, you're probably drinking your coffee, reading the paper or planning your day's yardwork. It's what we do on weekends–we unwind. But if you're one of the third-through-fifth graders in Tim Thompson's youth acting classes, you're doing anything but relaxing.
The performing arts are foreign to me. I usually prefer the invisibility of the pen, which is why I was so impressed by the kids who have chosen to dive into this world of drama. Thompson has been teaching Saturday youth acting classes since he began working at Oglebay Institute's Towngate Theater 12 years ago; he says it was the first thing he did when he was hired and has always had a good response. Many of the children who take classes with him continue to do so as they grow, going on to participate in Towngate Theatre productions like the annual Christmas play. In addition, Oglebay Institute's Summer Performance Arts Camps are very popular and tend to sell out quickly. This summer at Oglebay Institute, children will participate in Musical Theater Camp, Acting Camp, Improv Camp, and Children's Chorus Camp. At the end of each week, campers put on a production such as a fairy tale, a musical review, or a play.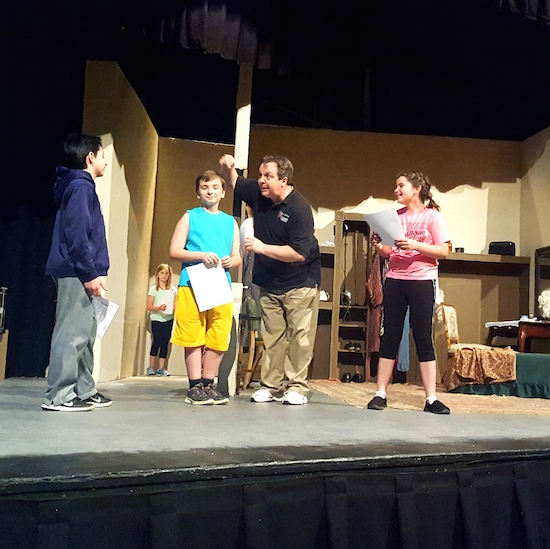 Thompson teaches youth acting classes at many local schools, and both of my boys rave about what they learn. (Ben once came home from school, threw himself face-down on the ground and excitedly told me that Mr. Tim taught him how to be an alligator.) This Saturday group of older kids mostly got to know him through his visits at their schools, and he says that once they take an acting or improv class, they tend to continue.
While we talk and wait for his students to arrive, we watch a group of K-2 kids in a Theatrical Play class led by Karissa Martin. At first, it looks like organized chaos, but upon closer inspection I can see that these little ones have chosen costumes and props, and what appears to be rowdiness is instead a series of scenes they've imagined, and they put their who hearts into it. Thompson tells me, "It's a real freedom. It's teacher-led play based on a fairy tale." The children don't realize that, as they create these scenarios and act them out, they're exploring their natural creativity and discovering their unique talents, skills they will hopefully develop and enjoy as they age.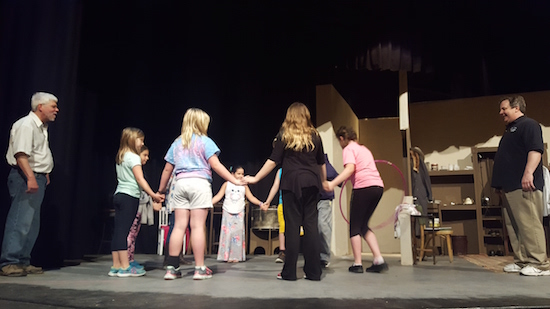 Up in the theater, Thompson and Walt Warren assemble the class. Warren has a background in music as well as theater and will be teaching the Children's Chorus Camp this summer. They gather the kids to warm up their bodies and their voices. They practice working together to move a hula-hoop around the circle, and they do mirroring exercises. For the past several weeks, Thompson and the kids have been working on improvisation. He prefers improv for the first half of the six-week session because it encourages creativity and freedom.
When I ask him if kids come by improvisation more naturally than adults, he thinks about it for a moment and then says, "I think kids especially are natural creators, if you don't negate them. That's why I do a lot of the stuff early on with improv. Everything's okay. Whatever hat you choose, whatever name your character has, wherever they're from, that's okay. It's their creation." These abilities seem to be within all children. Thompson usually only has to work with them on the fundamentals of performance such as enunciation, slowing down, and volume. They key, he reminds me, is to always be positive, and never to limit or restrict their imaginations.
The American Alliance for Theater and Education reports that students involved in the performing arts outscore non-arts students on the SAT. Drama activities improve reading comprehension and communication skills as well as school attendance. Children with learning disabilities, too, have demonstrated increased success with the addition of drama to their curriculum. And while not every child will take to acting—Thompson says that sometimes kids take his classes and find out that performance isn't for them—the experience will still encourage self-confidence and cooperative group dynamics.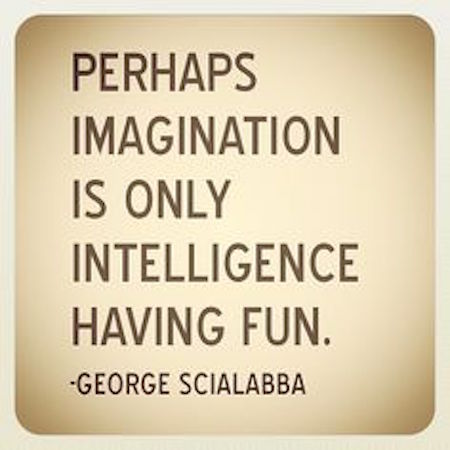 Today the kids are rehearsing their production of Charlie Brown. Although none of them are old enough to have seen many Peanuts cartoons, they seem to nail their characters' famous attributes. Thompson steps in as they rehearse and helps them to think about their scenes and their reactions. I laugh hysterically at some of their performances. Also, several parents and grandparents are sitting in the audience watching, too, and this really adds an important element to the rehearsal: it helps the young actors to feel the presence of an audience.
We lose our imaginations as we grow. Sometimes when my youngest son asks me to play superheroes, I feel sad because the inherent joy he finds in his fantasy escapes me. No matter how hard I try to be The Joker to his Batman, I still feel exactly like a 36-year-old woman with lipstick smeared on her face and dinner to prepare. And I wonder when, exactly, my ability to pretend withered away. When I was 10, I had it; by age 18, it was gone. I'd give anything to get it back.
But performing artists keep this creative spark, and teachers like Tim Thompson and Walt Warren spend their Saturdays encouraging our children to do the same. I think my boys will really enjoy youth acting classes. Perhaps there will be room for me.