Vincent Marshall, a Steubenville native and Wheeling resident, portrays eight roles in Towngate Theatre's production of "Stones in His Pockets," which opens March 17.
He's got a long list of favorite theater experiences — both as a performer and a spectator — all for different reasons, which makes it tough to narrow it down to just one or two favorites. But recently, he saw the 2022 Tony Award-winning musical, "A Strange Loop," on Broadway and noted that he can't recommend it enough.
Besides theater, Marshall enjoys travel, sports, and dogs. "I am an unapologetic dog dad. My two hounds eat up nearly all of my spare time and attention, and I am absolutely just fine with that," he admits.
In "Stones in His Pockets," Marshall will portray:
•   Charlie Conlon, North Ireland
•   Simon, first assistant director, Dublin
•   Clem, director, English
•   Finn, local extra, at 12 years and 17 years, Sean's Friend
•   Caroline Giovanni, lead actress, American
•   Mr. Harkin, local farmer, Sean's father
•   Brother Gerard, local teacher
•   Jock Campbell, Caroline's security, Scottish
Q: What attracted you to "Stones in His Pockets"? Why did you decide to audition for it?
VINCENT: P.D. Gregg had asked if I'd read a portion of it for the preseason cabaret show. I was instantly intrigued by the unique format using only two actors for multiple roles. So initially, it was the challenges it presents that caught my eye. But ultimately, the story is very moving, and the two main characters being on the outside looking in are very relatable.
Q: Tell me about playing multiple roles, please. Is it more difficult than just playing one role — and why or why not? Is this your first experience with playing multiple roles in a play?
VINCENT: Playing multiple roles is certainly more difficult than playing just one role. Everyone portrayed has a life, and it is my job to live that life in these moments the audience experiences. So, the amount of preparation becoming familiar with these characters and their life experiences is multiplied. But then it gets even trickier, because I, as an actor, should know the ins and outs of these multiple characters … their needs, desires, intentions, and reasoning behind all of that. However, as they are interacting with one another, I cannot indicate or lead on that I may know things about these characters that they don't about each other. The interactions have to be honest. It's like pretending not to know secrets.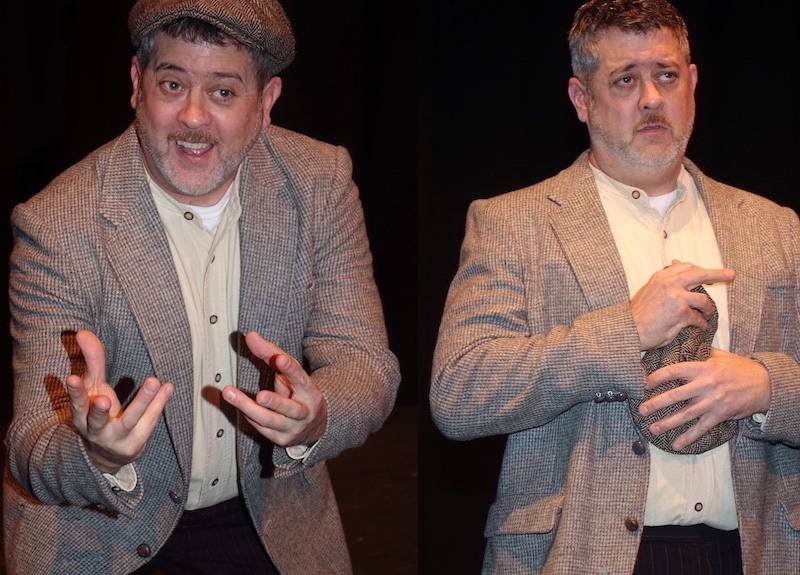 I have played multiple roles before ("Little Miss Sunshine," "The Best of Everything"). Usually, when this occurs, the different characters appear at different times in the show for different desired effects. But they aren't in the same place at the same time interacting with one another. "Stones" is another animal. Several characters are in (and out of) these scenes at the same time, a lot of the time, and they are all being portrayed by only two actors. Sometimes different characters I am playing are the ONLY ones interacting. So then, the knowing secrets and not knowing them essentially at the same time get mind-blowing. It's nuts. And a lot of fun.
Q: Will you be using an Irish accent for your characters? If so, how do you learn the accent? Have you done any other plays using accents? What were they and what accent did you use?
VINCENT: I will be using an Irish accent. Actually, there are a few different Irish accents in this play because the characters are from different regions of Ireland, and there are some marked differences. The internet (YouTube especially) is fantastic for dialect work. Movies and television are helpful, too. You can be very specific in researching accents on your own now with great success. Not long ago, it would take several trips to Blockbuster, a good ear, and, if you're lucky, a dialect coach to get the same instruction.
I've probably done more plays with accents than without. This is not intended to be an arrogant statement. Most plays are very place-specific. So, it just stands to reason that some sort of accent follows. So I've used different English (standard received pronunciation — RP, Cockney, West London), Irish (this is my third or fourth), Eastern European broken English, as well as American variations (New England, Southern).
Q: Do you have a favorite character in this play?
VINCENT: I do have a favorite character, but I can't say. The others may get jealous.
Q: What is your history with Towngate Theatre? How long have you been involved? What other notable roles have you had? What's been your favorite role?
VINCENT: My first experience of Towngate was seeing their 2000 or 2001 production of "The Pajama Game." I was a latecomer to theater, and frankly didn't know the place existed. But I immediately fell in love with the place. I first performed here in "The Beauty Queen of Leenane" in 2001 or 2002, also my first Irish play. I've been very lucky to have the opportunity to portray some very special characters. Comparing them is fun. Dracula is very different than Rosencrantz. Or is he?
Q: Why do you think community theater is important? What does Towngate Theatre contribute to the local arts scene?
VINCENT: Since that first viewing in 2000 (or 2001), Towngate has been a major influence in my life. Having the chance to live artistically is a part of life I could not do without. They help me fill that void that the 9-to-5 just can't. And this goes for being an actor and a fan. Providing that chance year-round is the glorious thing that Towngate does for anyone of all ages. They encourage everyone and anyone to find their human side in an atmosphere that is encouraging, supportive, and fun.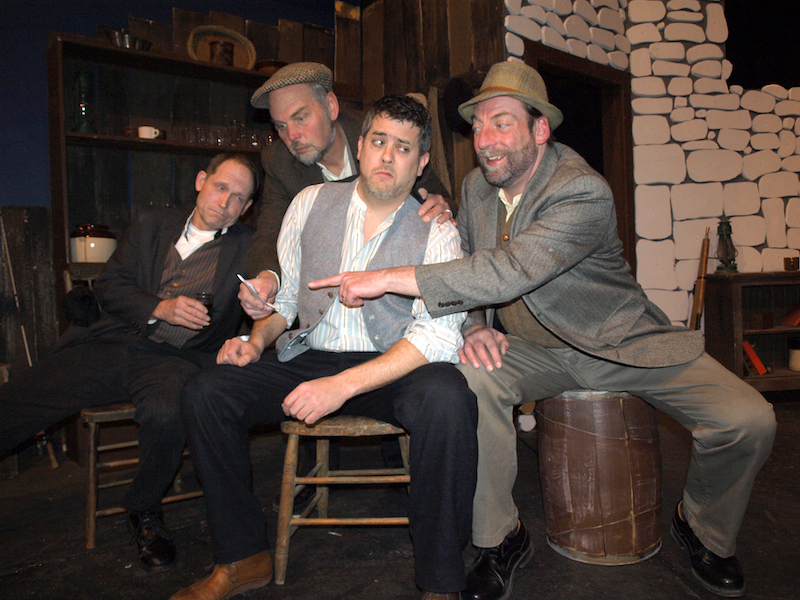 See this Show
DETAILS: "Stones in His Pockets" will be performed at 8 p.m., March 17-18 and 24-25, with a 3 p.m. matinee, March 19. Admission is $15 ($13 for OI members.) Purchase tickets online or call 304-242-7700. Towngate Theatre is located at 2118 Market St., Wheeling. The show is sponsored by Unified Bank.