By Phyllis Sigal
"Stones in His Pockets" is deeply personal to P.D. Gregg, technical director of Oglebay Institute's Towngate Theatre.
And that's just one of the reasons he chose the play, which opens March 17. Gregg not only selected the play, but he cast the actors and is serving as director.
"It's fast-paced and funny, and one of my personal favorite dark comedies," he said. "It's also an opportunity to feature two of our best actors playing multiple roles."
We'll get to the actors — Vincent Marshall and Eric Dutton. But first, let's get personal with P.D.
CLOSE TO HOME
"It hits very close to home," Gregg said of "Stones in His Pockets."
He grew up on a dairy farm, as did two of the characters in "Stones in His Pockets." He went into theater, as did Jake in the play. Jake traveled from Ireland to the United States to try to make it as an actor but came home when it just didn't work out. Gregg had planned to dedicate himself to his family's dairy farm — although, his dad told him to do "anything else" — which turned out to be theater.
"That was part of the reason I even tried to do theater. I always knew I had this safety net. I always knew I could come back to it," he said, referring to the family farm.
And then, 18 months after Gregg took the job at Towngate Theatre, his family had to sell the farm when all the cows fell sick.
From personal experience in the film industry, Gregg also can relate to how Hollywood treats a town being used as a film location. In "Stones in His Pockets," the locals in the rural town of County Kerry, Ireland, experience what it's like to be overrun by a Hollywood film crew, Gregg explained.
"All these local people are grasping onto it for the huge influx of money to their dying town, but they don't realize what they're sacrificing, and that Hollywood is taking advantage of them," he said.
THE PLAY
"Stones in His Pockets" centers around two new acquaintances, Charlie Conlon, and Jake Quinn, employed as extras in the movie being filmed in County Kerry.
Charlie aspires to get the script he has written made into a movie. Jake recently has returned from New York and is mesmerized, along with everyone else, by the star of the movie, Caroline Giovanni. Caroline is a famous, beautiful American movie star who fails to ever conquer the Irish accent successfully. Caroline and the other American crew members do not attempt to accurately portray the town and people, and they only care about finishing the movie on time.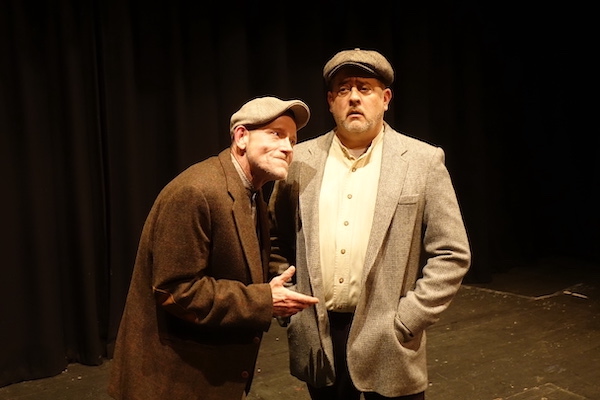 Most of the locals are initially excited at the opportunity to be a part of a major film and distracted by the novelty. However, as the filming continues, they begin to feel abused, and the glamour begins to wear off. "Stones in His Pockets" is a comedic — yet tragic — take on the effects of the Hollywood dream in a small Irish town, Gregg explained.
TWO ACTORS, 13 ROLES, MULTIPLE ACCENTS
Needless to say, multiple roles present challenges to the actors. "But that is part of the fun," Gregg said. "The actors need to switch characters rapidly, both physically and vocally, frequently during the same scene."
The actors learned no less than six accents between them. "Jake and the locals are from Kerry, members of the crew and support staff that are from Dublin, London, and Scotland, Charlie is from Ballycastle in Northern Ireland, and the lead actress is an American. It helps differentiate the characters and helps create some of the funnier moments in the play," Gregg said.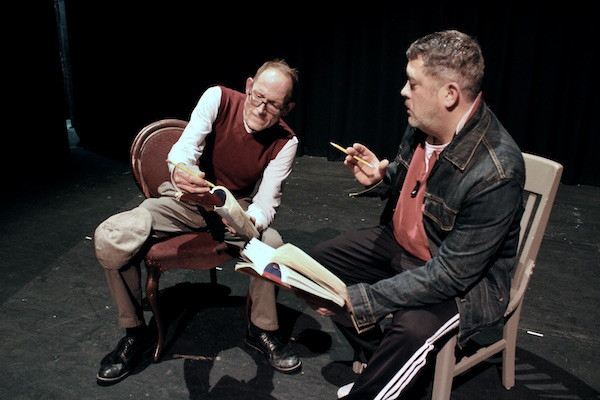 Marshall portrays:
Charlie Conlon, North Ireland
Simon, first assistant director, Dublin
Clem, director, English
Finn, local extra, at 12 years and 17 years, Sean's Friend
Caroline Giovanni, lead actress, American
Mr. Harkin, local farmer, Sean's father
Brother Gerard, local teacher
Jock Campbell, Caroline's security, Scottish
Dutton portrays:
Jake Quinn, local
Aisling, third assistant director, Dublin
Mickey, local extra
Sean Harkin, local, at 8 years, 12 years, and 17 years
John, dialect coach, Dublin
Dave, crew member, Cockney
Interviewer, Dublin
CONNECTING THROUGH THEATER
Gregg has worked with each actor for many years.
"I first met Eric in 1994 doing 'Noises Off,'" he said. "I was immediately struck by his talent and intensity. That following November, he directed me and himself as the leads in 'I Hate Hamlet.' To prepare for the sword fight in the play, we went to Bethany twice a week to have the theater professor help us choreograph and rehearse the fight. On Tuesdays and Thursdays for five weeks, we drove to Bethany, sword fought for two hours, drove back to the theater, and rehearsed for three hours.  …  The rehearsals for the play and the drives to Bethany proved to be a huge bonding experience for us that I will never forget," Gregg said.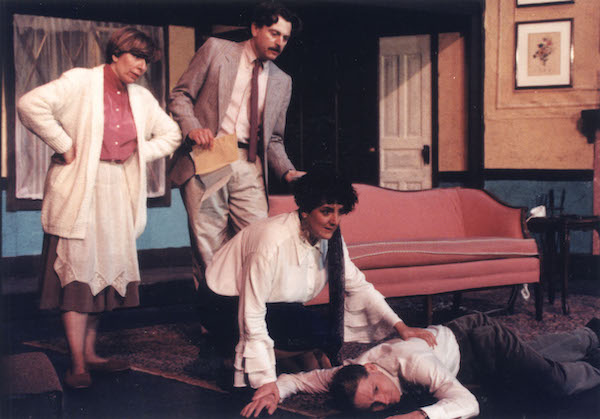 He has directed Dutton many times, including Irish plays, "The Shaughraun" and "The Cripple of Inishmaan." They last appeared on stage together in "The Quiet Man" along with Vincent Marshall.
Interestingly, "The Quiet Man" is mentioned in "Stones in His Pockets." Dutton plays Mickey, who was an extra in "The Quiet Man." In "Stones in His Pockets," Mickey plays an extra in the movie, "The Quiet Valley," being filmed in "Stones in His Pockets."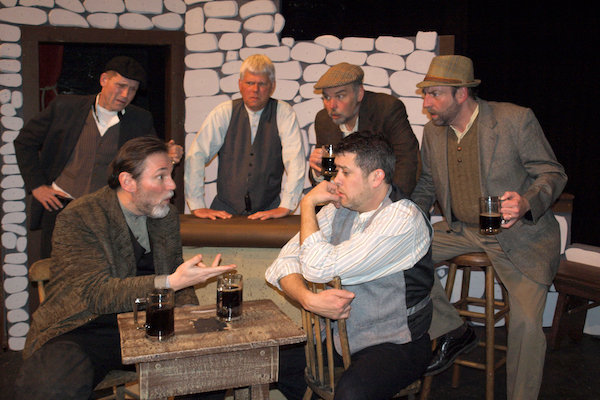 Gregg first met Marshall in 2000 when they were cast in "The Beauty Queen of Leenane." They performed that play more than 30 times between Towngate's production, state, and regional competitions.
"I directed Vince in a variety of plays. Two of my favorite performances of his were as Dracula and as Rosencrantz in 'Rosencrantz and Guildenstern Are Dead.'"
SEE THE SHOW
DETAILS: "Stones in His Pockets" takes place at 8 p.m., March 17-18 and 24-25, with a 3 p.m. matinee, March 19. Admission is $15 ($13 for OI members.) Purchase tickets online or call 304-242-7700. Towngate Theater is located at 2118 Market St., Wheeling. The show is sponsored by Unified Bank.
STAY TUNED FOR Q&As with each of the actors!