By Phyllis Sigal
It's been three long years since antiques lovers have had the pleasure of perusing pottery, china, silver, artwork, furniture, and more at Oglebay Institute's Antiques Show and Sale. Covid put the event on hiatus for two years, then a water-line break at the glass museum in early 2022 canceled the event last year.
But it is back in all its decades-long glory for 2023, with a brand-new show manager at the helm.
NO STRANGER
John Mickinak is no stranger to the iconic show and sale, nor is he a stranger by any stretch of the imagination to antiques. For 24 years, he manned a booth at the local show bringing a variety of items including furniture and art.
"John's long-time participation in Oglebay Institute's Antiques Show and Sale, as well as his work and volunteerism in the antiques and arts fields, has given him a broad and well-rounded perspective to bring to our show, both as a dealer and a supporter of arts and antiques-based institutions," commented Christin Byrum, director of the Museums of Oglebay Institute.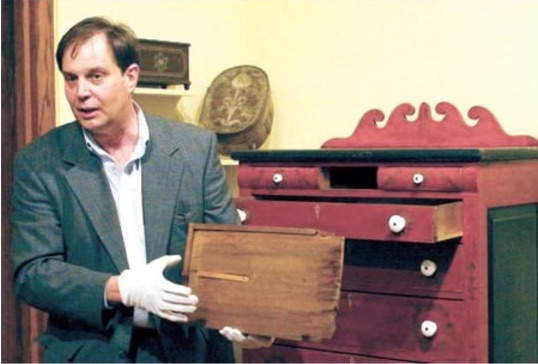 Mickinak has been the proprietor of the Ligonier Antique Gallery in Greensburg, Pa., a business he founded 45 years ago. He has managed the Monongalia Antique Show, the Sewickley Antiques Show, and the Greensburg Antiques Show. Mickinak also is an independent consultant, owner/operator of Mickinak's Antique and Auction Services, as well as a volunteer and board member in antiques-related organizations.
"I have always been interested in history and old things," he said. An art and history major in college, he recalls buying his first antique — an old floor-model radio — at an auction at age 12. "I've been in the antique business for over 45 years. … I've conducted over 600 estate sales and exhibited at several hundred antique shows including 24 years at Oglebay," he said.
A REAL FAN
"Oglebay has always been my favorite show," he said. "They treat the dealers better than any show I have seen done. They (the committee) make everyone feel welcome. I have always brought my family along and turned the show into a mini vacation," he said. This year, while Mickinak is managing the show, his son will man his booth.
"We have always looked forward to our Oglebay show. I've made friends through this show, and we always have a great time, both family and dealers. Oh, and the breakfasts are great, too."
One of Mickinak's favorite memories of the Oglebay Institute show and sale is that of former OI museums director John Artzberger. "John Artzberger would always stroll through the show and visit with the dealers," he said.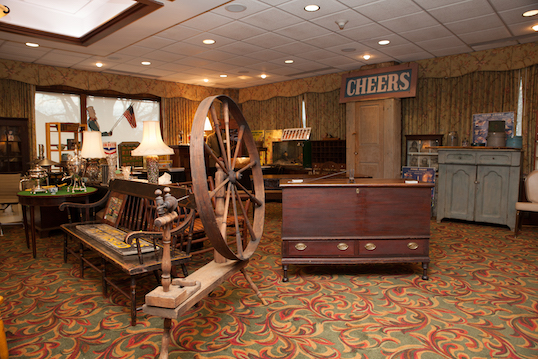 "[Mickinak] understands that this particular show checks many different boxes for many people because he has experienced it that way himself: a place to conduct business, a place to meet up with colleagues and friends, a place to make new friends, and a quality get-away for the entire family that includes shopping, tours, dining, lodging and experiencing all that Oglebay Park and the Museums of Oglebay Institute have to offer. John is familiar with the high standards of this show and shares our commitment to making this a successful and enjoyable show for all," Byrum said.
"It's a long-established show with a great history that has so much to offer a visitor. You can spend an entire day at Oglebay. Attend the show, purchase antiques, dine, visit the Mansion Museum and the Glass Museum, buy flowers, plants, garden items, gifts of fabulous glass, and then there's the gardens and flowers. Who could ask for more?" he added.
BIG SHOES TO FILL
Next in line as one of a handful of managers in the show's 68-year history, Mickinak will fill the shoes of Peter Chillingworth, who took the reins in 1999.
"We are grateful for Peter's leadership, professionalism, and guidance. Oglebay Institute's Show was taken to a new level under his management," Byrum said.
Mickinak intends to keep the high standards of the show that have been set over the years. He'd like to make the show more relevant to a younger clientele, he noted as one of his goals. "We need to bring the show into the 21st century by incorporating quality mid-century modern antiques."
'A PIECE OF HISTORY'
The definition of what an antique is has changed over the years, he said. For example, he pointed out, a 30-year-old jukebox is considered an antique. And right now, mid-century modern is a style that attracts younger buyers.
His advice for younger buyers or those new to antiques?
"Buy what you like. … [Buy] from reputable dealers. Ask questions."
Antiques are not always expensive and not just for the wealthy, he noted. "You can't beat the quality of an item that's over a hundred years old and still in super condition. … You can own a piece of history."
Details: Oglebay Institute's Show and Sale is set for April 14-16 at The Pine Room, Oglebay. General show hours are 10 a.m. to 5 p.m. Saturday, April 15, and 11 a.m. to 4 p.m. Sunday, April 16. General admission is $12. Special Friday evening preview events include Dessert With Antiques and the Preview Party. For more information, visit oionline.com/events/antiques-show.