At 8pm Saturday, April 21, The Crazy 8s will take the stage at Towngate Theatre. This evening of improvisational comedy is certain to make you laugh.
While young members of the troupe are guaranteed to bring the funny, there is a some bittersweetness for this performance. It is the last show for two of the troupe members, who have been around for a long time.
With college just around the corner, Wheeling Park High School seniors Mary Prather and David Gaudio perform their final regular show with The Crazy 8s.
Both Mary and David joined The Crazy 8s in 2014 when they were 14 years old. The experience for them has been very beneficial, they said.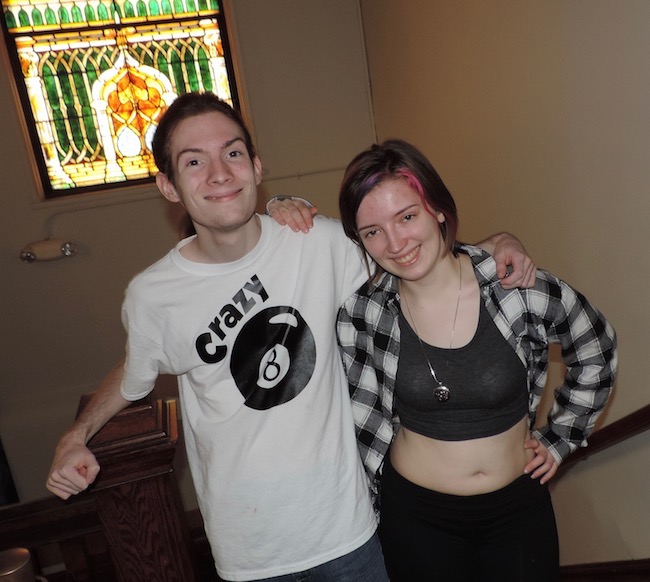 "It's been very freeing," Mary said. "I used to have horrible stage fright, but that has all but vanished. Improv kind of reminds me that no matter how bad things go, you can always turn it around."
"It's kept me sane for the four craziest years of my life," David said. "It's given me a bit of confidence and made me a little more open to others. And it's helped me realize how much I love teaching people stuff, which is what I want to do with my life at present. It's shaped me in a lot of important ways and I can't thank it enough for that."
Mary said making friendships is one of the best things about her experience.
"Improv has helped me make a lot of close friends that I never would have had otherwise," Mary said. "It's a great feeling, knowing that you have a dozen or so people who have seen you at your absolute dumbest and still support you and want to be around you. No matter where I go or what I do, I know that the other Crazy 8s will always have my back."
David thinks the skills that performing improv have given him will help him going forward in his life.
"A big part of improvisation is figuring out how to think on your feet and trust yourself, and those skills have already come in handy pretty often," David said. "Sometimes it forces you to be more truthful and open than most people are comfortable with, and that, in turn, teaches you more about yourself. It also teaches you the values of listening to people, working well with a group, and keeping your mind open and thoughtful, all of which are skills that have helped me in countless ways."
"If anything, it's made coming up with excuses as to why I forgot my math homework much, much easier. So that alone has probably made it worth it," he added.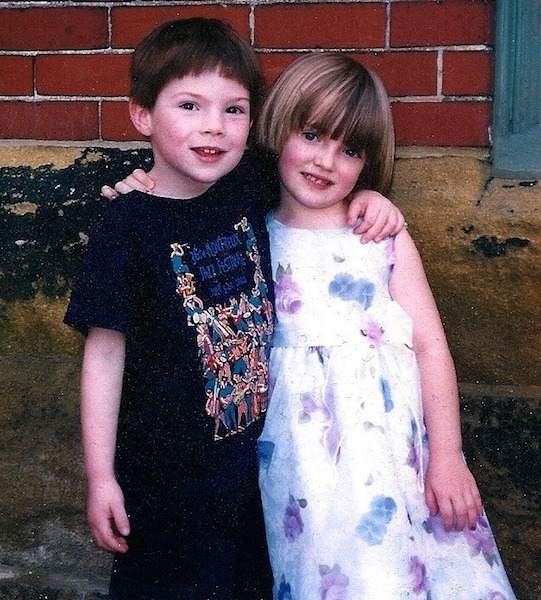 David plans to attend West Liberty University in the fall and hopes to continue on a path in the arts and performance.
He said he plans to "study acting, with a minor in singing…but these things are hard to decide." He said he also thinks that he may one day like to be a teacher.
Mary has been accepted to Amherst College and said it seems likely that she will attend there in the fall.
Towngate Theatre director of performing arts Tim Thompson said that he has watched David and Mary grow up.
"They have been taking classes for at least 10 years and been Crazy 8s for four years," Tim said. "They are the first in nine years of Crazy 8s to take on assistant directing the company and serving as hosts for the performances. They are both very talented, smart and above all…fearless!"
Mary and David both said that they will miss The Crazy 8s when they are finished.
"It's been a wonderful experience in every possible way," David said. "I've been a part of this group during some of its greatest high-points and most heartbreaking low-points and I wouldn't change a second of any of it. But most of all I'm going to miss the people with all my heart. They're all wonderful, and I can't say enough good things about them. They've been undoubtedly the best part of my life for the last four years. Thanks, guys."
Mary shared the sentiment. "The troupe is a collection of some of my best friends, and I'm going to miss them so much," she said. "Not to mention, I've known Mr. Tim, our director, since I was a kid. He was my first director, and I'm going to miss having him to turn to. Honestly though, I could write a book on how much I'll miss everyone. There are going to be some tears shed after this show."
Laughs and tears…sounds like a great night.
GET TICKETS
Tickets for the show Saturday, April 21 are only $5 and on sale now. Purchase online or call 304-242-7700. You can buy tickets at the door, too.