OI's Student Art Show Showcases Artistic Achievements
Oglebay Institute opened its annual Regional High School Student Art Exhibit January 12 with a public reception and awards ceremony at its Stifel Fine Arts Center. Several students received cash prizes for their work, and one area student received a full tuition scholarship to West Virginia University. Two others received scholarships to West Liberty University.
The Regional Student Art Exhibit provides high school students the opportunity to display their work in a professional gallery; see what other students are doing in the world of art; collaborate and get feedback from art teachers, college professors and other students from throughout the region.  The show is part of Oglebay Institute's art exhibition season, which is sponsored by United Bank.
Students Earn Scholarships to WVU and West Liberty
For the past four years, West Virginia University's School of Art and Design has offered a four-year, full-tuition scholarship to one student artist participating in OI's Regional Student Art Exhibit.  Samantha Shipley of Speiro Academy is the 2017 scholarship recipient. Dr. Teri Giobbia, art education coordinator at WVU, selected Shipley as the winner on behalf of WVU's College of Creative Arts.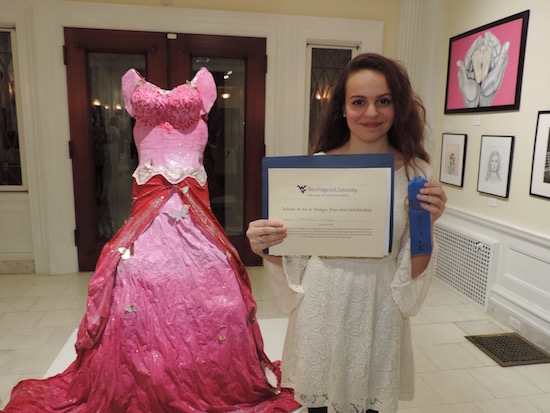 West Liberty University also awarded scholarships to two students in conjunction with the show. Annabella Paree of Wheeling Park High School and Briauna Harlan of Monroe Central were both offered $2,000 scholarships.
Ninety Students from three states participated.
The Regional Student Art Show is in its 28th year. 220 pieces were submitted and 160 were selected for the exhibit. Jason and Nina Sauer, owners and operators of Most Wanted Fine Arts Gallery on Penn Avenue in Pittsburgh juried the show. Ninety students representing 14 high schools in Ohio, West Virginia and Pennsylvania participated.
The annual Regional Student Art Exhibit is open to students in grades 9-12 within a 50-mile radius of Wheeling.
Prizes were awarded for Best of Show and to the top three students in four categories – painting, photography, drawing and 3-D.  Three students received honorable mentions.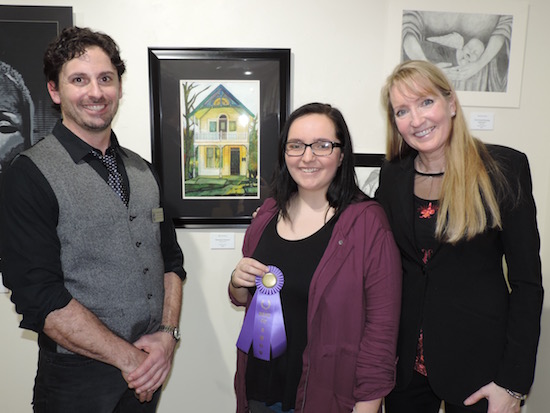 Award Winners
Best of Show: Ally Perkins, Union Local High School
Painting:  First place, Morgan Edwards, Union Local; second place, Macey Graham, Monroe Central; third place, Sarah Maidment, Avella High School.
Drawing: First place, Summer Emory, Union Local; second place Hannah Kemp, Union Local; third place, Alyssa Morrison, Union Local.
Photography: First place, Derek Dearth, Wheeling Central; second place, Ellie Porbin, Avella High School; third place, Madison Dagan, St. Clairsville High School.
3-D: First place, Samantha Shipley, Speiro Academy; second place, Hannah Lingenfelter, home schooled; third place, Jeno Dusci, Buckeye Local.
Honorable mentions:  Alyssa Morrison, Union Local; Braden Robinson, Union Local and Marisa Hall, River High School.

View the Show
View the show free of charge now through February 17 at the Stifel Fine Arts Center.  Hours are 9 a.m. to 5 p.m. Monday through Friday and 10 a.m.- 4 p.m. Saturdays. Evening hours are dependent of classes and special events taking place.  For more information, visit www.oionline.com or call 304-242-7700.