OI SCHOOL OF DANCE CELEBRATES BLACK HISTORY MONTH
Special guests from Dance Theatre Harlem and The Joffrey Ballet School teach workshops and discuss the challenges, changes and influence of African American dancers since the 1950s.  
In 2015, Misty Copeland made history when she became the first African American female principle dancer with the prestigious, and historically white, American Ballet Theatre. Like with all barrier-breaking "firsts," there is a long and illustrious line of people who paved the way for this historic moment.
"Misty Copeland is amazing and has become a household name. But she is not the first black professional ballerina.  Many African American women had trailblazing careers despite the racism they faced. Their accomplishments helped open the door for future dancers like Misty," said Oglebay Institute director of dance Cheryl Pompeo.
One of those women is Lorraine Graves. Graves is a former principle ballerina and current master teacher with the legendary Dance Theatre of Harlem. She has performed around the world and for American presidents Ronald Reagan, George H. W. Bush and Bill Clinton as well as Nelson Mandela and Mikhail Gorbachev.
OI Welcomes Special Guest Artists
Graves is a special guest at Oglebay Institute's School of Dance in Wheeling on Sunday, February 5. She will teach a ballet workshop and discuss the challenges, changes and influence of African American dancers since the 1950s.
Internationally traveled master instructor Nijawwon Matthews will join Graves in the discussion and will also teach a hip-hop workshop. Matthews is a resident teacher and choreographer for The Joffrey Ballet School in New York City. He also serves as a teacher and dancer for TOKYOtheCOMPANY.
The program takes place from 5 -8 p.m. Sunday, February 5. It is open to dance students ages 6 and up and includes both workshops and the lecture/discussion.
Community Outreach
As part of OI's community outreach program and through funding from the Hearst Foundation, groups from Laughlin Chapel, Bethlehem Apostolic Temple, Florence Crittenton and Generations of Steppaz will participate in the programs.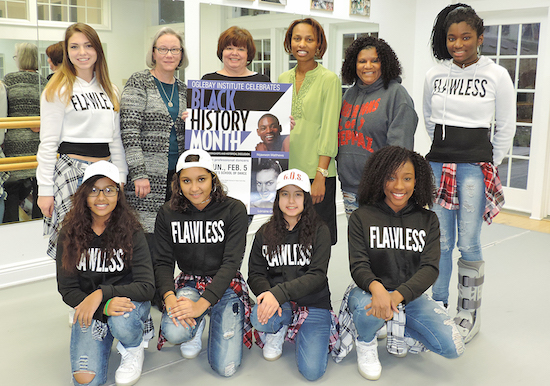 Pompeo organized the events to honor and reflect on African Americans dancers who have significantly impacted the American dance scene.
"Many groundbreaking artists and companies pioneered a new era of dance where black dancers could be seen as equal artists," she said.
For example, Dance Theatre of Harlem, where Graves began her career, is the oldest black classical company in continuous existence. DTH was instrumental in lowering the color bar in ballet and continues to carry the torch for racial inclusion.
"It is vital that we continue to cultivate diversity in dance, both on the stage and in the audience," Pompeo said.

Register
For more information or to register for OI's Black History Month program, visit www.oionline.com or call 304-242-7700.