By Laura Jackson Roberts
If you've visited Oglebay Institute's Schrader Environmental Education Center in the past year, you've probably met director Molly Check. She's an educator and naturalist and she began her tenure at the Schrader Center in April of 2017. She recently sat down to tell me a little bit more about herself.
Before Schrader
Originally from northwestern Pennsylvania, Check has worked at nature centers in Minnesota, the Poconos, and most recently, Connecticut, where she spent three years at Denison Pequotsepos Nature Center.
"I don't remember what I wanted to be as a kid," she said. "I remember playing with my brothers when I was younger and I used to be the teacher, and I would set up the classroom and make them take classes and I would take it very seriously."
Check obtained her bachelor's degree in environmental education at Slippery Rock University. She also has a teaching certificate for environmental education, grades K through 12, but hasn't taught in the public school system.
"I've always worked at non-formal educational nature centers,"she said. "When I went to college, I knew that it needed to be something outside. I signed up for natural resource management, but knew I didn't really want to be a park ranger, which was the career destination for that major. Then, at the end of my junior year, I had an Intro to Environmental Education class requirement, and that was when the light bulb went off."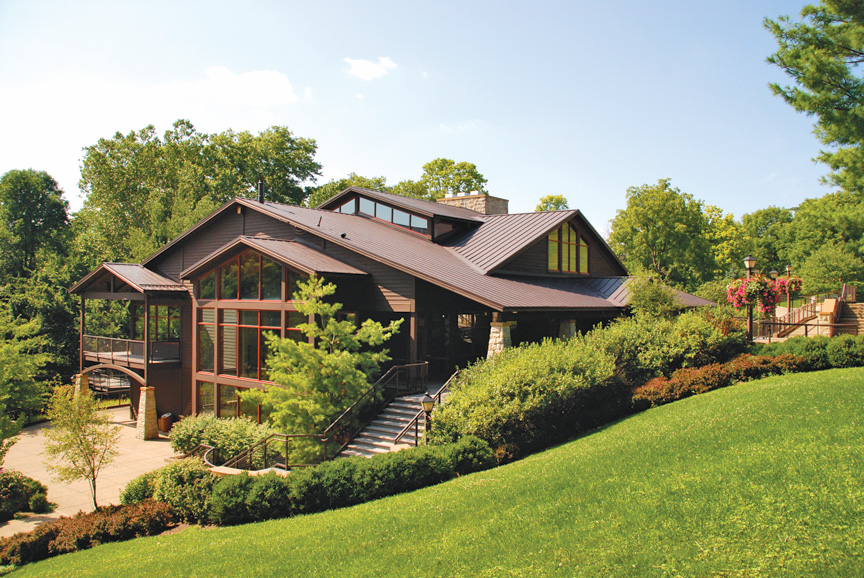 The Work of Environmental Education
Younger generations have their work cut out for them and will need to work hard to affect lasting environmental change. In a profession with so much riding on it, Check is aware of her responsibilities.
"I think the most important part of my job is working with all of the different schools in the area," she said. "The more students we can work with, the better. We have this great program right now with Marshall County Schools where we work with their first through sixth grade students. We've been doing this now for a couple of years and can see the results of the horizontal programming. To see the students build on a foundation of knowledge from a previous program is so rewarding –you start to meet them and learn about them and they remember you and remember the things you taught them."
The Fun Part
As for her favorite part of the job, she refers to a morning I spent with her and the Schrader Center staff as they measured water quality and sampled aquatic life in the stream behind the Center for a new, long-term study. (Story coming in November!) Specifically, she enjoys the camaraderie with other nature-lovers.
"I think my favorite part is the part that you joined us for the other day, which is when we get to go test the stream. That's a lot of fun for me because I love being in the stream and because I am so excited about this stream restoration project. Even though we're just in the first couple months of it, I can just feel how important it's going to be and how it's going to be more and more with each passing year. That's probably my favorite part because we do it as a team, and we all love being out there exploring. Any time you're walking down the trail with all of your other fellow naturalists, there's always opportunities to learn from each other."
Important Ecological Issues
What current environmental issue does Check hold closest to her heart, as an educator?
"I do think water quality is probably the one closest to my heart," she responded. "I've always said that I need to live somewhere where I can see some body of water every day, whether it's a pond or river or stream. So when you're as attached to the waterways as I am, I think water quality is an easy issue to become involved in and talk about, especially when you look at it at a global level."
Check said that the entire world faces water problems. They may present themselves differently, in the form of droughts or floods or water pollution, but every nation will soon need to address these issues.
"My grandma always used to say that the next world war would be over water, and she was a very wise woman. She lived to be 90 years old and I think she's right you know? There are people even today, right now, that don't have enough water to drink. And I think a lot of the water issues that we deal with today are related to climate change."
She added that climate change is at the forefront of all environmental education conversations right now, as it should be. Her hope is that conservation efforts will be ongoing and will lead to action on a local level, first and foremost.
"People do need to talk about it," she said. "I think that people need to read the research and learn what's going on and come up with ways that they can try to counteract [climate change] in their neighborhoods, in their own homes."
Making an Impact
With environmental issues compounding as the climate changes, it's easy to get discouraged by the mountain of problems we face in every country, every ecosystem. Surely, an environmental educator must get discouraged. Does she?
"I do. I do, indeed," she said. "And that's why I have this fabulous quote taped to my desk because, every once in a while, you can get discouraged. And then I read this quote about the importance of small efforts and ripple effects and I feel better about things."

She does feel she's making a difference. She places tremendous hope in children and believes the work she and her staff do makes a lasting impact on the next generation.
"The kids, they do remember it. They build on it. This is true, not just in the Schrader Center, but all the nature centers I've worked at. The work of the environmental educator is to create personal connections to the natural world so that students are inspired to make changes in their own lives that benefit the Earth's systems. This is happening every day, all around the world. That gives me hope."
She's a Birder
What does a naturalist like Check do in her spare time?
"I'm a big birder. My boyfriend and I got into birding a couple years ago and never looked back. My 'life list' of all the bird species just broke 200, actually, on a New Orleans trip, and there's just no end in sight. Once we get all the ones in the country then we get to start doing international bird trips. It's one of those hobbies where, when you're not involved, you don't even really know what's happening, and then you become a birder and you find out birding circles are everywhere. I also like to stay at home and garden. I'm a big cook. My favorite cooking is when I get to cook with the vegetables from my garden and experience the whole complete circle. And I don't do it as much as I used to, but my absolute favorite outdoor pastime is canoeing."
A Visit to the Schrader Center
If you visit the Schrader Environmental Education Center, you'll probably run into Molly Check. Maybe you'll take a class or go on a nature walk with her. She hopes, first and foremost, that you learn something new during your visit. She hopes you'll be excited to come back and take a hike on the nature trails.
"When you're out exploring nature, you never know what you're going to see," she said. She also reminded me that the staff has worked hard over the last year to build new exhibits, most of which are hands-on and will rotate with the seasons. Expect something new every quarter. Additionally, come say hi to the live animals, like Frank, the midland painted turtle (Schrader's latest Employee of the Month) or Taylor, the corn snake, among other reptilian residents.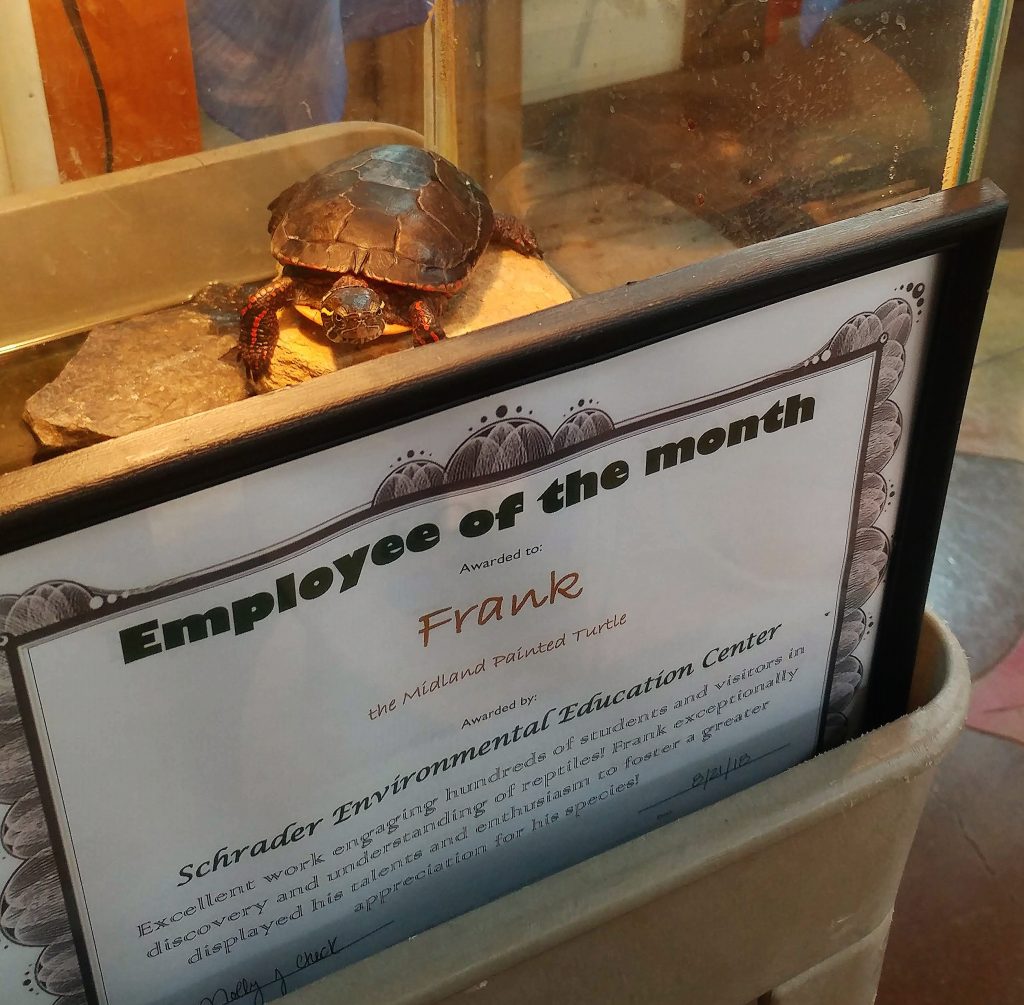 Of the Schrader Center's most important visitors, Check said, "When school kids leave, of course, then we hope that they were listening and were engaged and had a wonderful time."