Oglebay Institute is hosting the most wicked Halloween party in Wheeling! Enjoy a night of thrills, chills, sideshow, burlesque, costumes and rock-n-roll at the Shadows Ball!
The second annual Shadows Ball takes place from 7 -11 p.m. Saturday, October 21 at OI's Stifel Fine Arts Center.  This grand, historic mansion is the perfect venue for a Halloween extravaganza.
Human Blockhead, Bed of Nails, Burlesque!
Back by popular demand, Pittsburgh's Kabarett Vulgare entertains guests with a variety of sideshow acts.  See glass walking, brain flossing, human blockhead, burlesque, the bed of nails, pain wands and more.
A performing arts group based on Weimer era cabaret and the American sideshow tradition, Kabarett Vulgare delivers a night of performance not soon to be forgotten. Performers include sideshow marvel and boylesque drag queen Lilith DeVille; glass dancer and burlesque performer/educator Macabre Noir, fakir bed of nails oracle Nick Noir and contortionist Zsa Zsa Moon.
Since 2009, Kabarett Vulgare has been making crowds scream with pleasure and pain on stages all over the continental United States. Awards include: 2012 Pittsburgh Freak of the Year, 2013 Great Southern Exposure Best Variety Entertainer, 2014 Burlypics International Most Daring Act, 2014 Burlypics Pennsylvania overall winner, 2016, Burlypics Pennsylvania Master of Vocals, 2016 Burlypics Pennsylvania Master of Lip Sync.

DJ, Food, Drink and Costume Contest
In additional to the sideshow entertainment at the Shadows Ball,  a DJ will provide music and the dance floor will be rockin'. Enjoy food, drink and film screenings playing in the gallery. Be sure to explore the #OpenOnPenn art exhibit, too. You can also win prizes in the judged costume competition.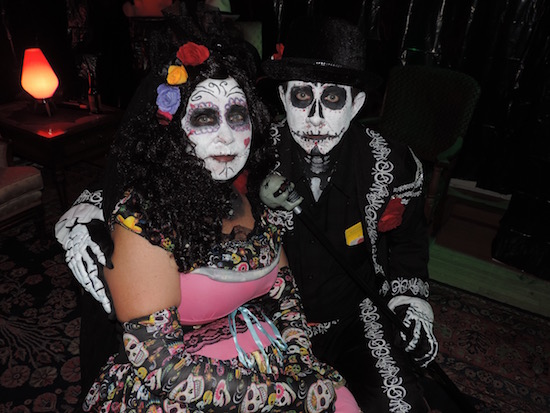 Our friends at Ye Olde Alpha are cooking up a wicked menu for the evening.  The buffet (included in your ticket price) includes:
•Brain Puree (roasted red pepper hummus with grilled pita)
•Three Witches Cauldron (spicy pumpkin soup with toasted pumpkin seeds)
•Bloodied Beets (oven roasted beets with caramelized onions, goat cheese and balsamic reduction)
•Count Guac-ula (chips, salsa and guasacaca)
•Texas Chainsaw Pulled Pork (pulled pork with Texas BBQ and spicy slaw)
•Graveyard Greens (Mixed green salad with raspberry vinaigrette)
•Severed Bat Wings (chicken wings with chipotle BBQ and hot pickles and Ranch dressing);
•Steak Shivs (guadalajara steak skewers with chimichurri sauce)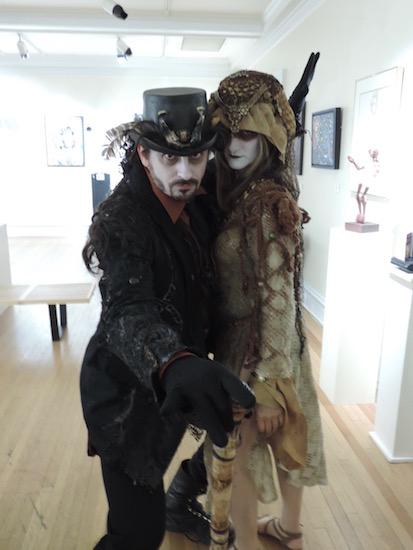 Take a Look: Video from the Shadows Ball
Artist David John Mega put together a video with highlights from last year's Shadows Ball.  Check it out here.
Get Tickets
Admission is $35 per person.  Ages 18 and older only can attend, and costumes are required. No entry without appropriate ID.
Purchase tickets at www.oionline.com or call 304-242-7700.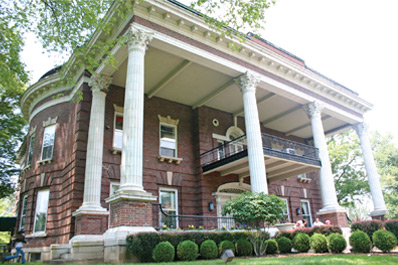 All proceeds from the event directly support the Stifel Fine Arts Center. Housed in the historic Edemar Mansion, the Stifel Fine Arts Center is a public arts center with galleries, classrooms and performance space. Most importantly, the Stifel Center serves as a gathering place for artists, emerging artists, art lovers, students, educators and families. Programs connect and engage the community in creative pursuits.