Towngate Theatre's 2021-22 main stage season is dedicated to Wheeling playwright Tom Stobart, who died in 2020. The season has celebrated his life and legacy by staging some of his plays and introducing new audiences to his works.
Stobart's "Under the Bridge to the Stars" will be staged for two weekends—May 6, 7, 8 & May 13 and 14.
The play centers on Tucker, a man who has lost nearly everything because of his alcoholism and rents a room above a bar where he plans to drink himself to death. He forms a relationship with Dee, a fellow alcoholic, but it is uncertain whether this relationship will lead to salvation or spiraling to rock bottom.
About Tom Stobart
Stobart was a longtime community theater actor, appearing in more than 100 local plays and musicals. He was also well-known in the community as the proprietor of the Paradox, an eclectic used bookstore in Centre Wheeling. Stobart authored 17 one-act and six full-length plays.
Most of his works are thinly veiled autobiographies, including "Under the Bridge to the Stars." Stobart was an alcoholic and was upfront about his addiction and how it ravaged his life and health.
Playing the Role of Tucker
Oglebay Institute director of performing arts Tim Thompson was a longtime friend and collaborator of Stobart. Thompson is playing the role of Tucker in Towngate's production.
"This is a story that many of us can identify with. I know I do because Tom was one of my best friends," Thompson said. "He fought his addiction most of his life, and was a brilliant, talented, compassionate, and stubborn soul who just couldn't find a way."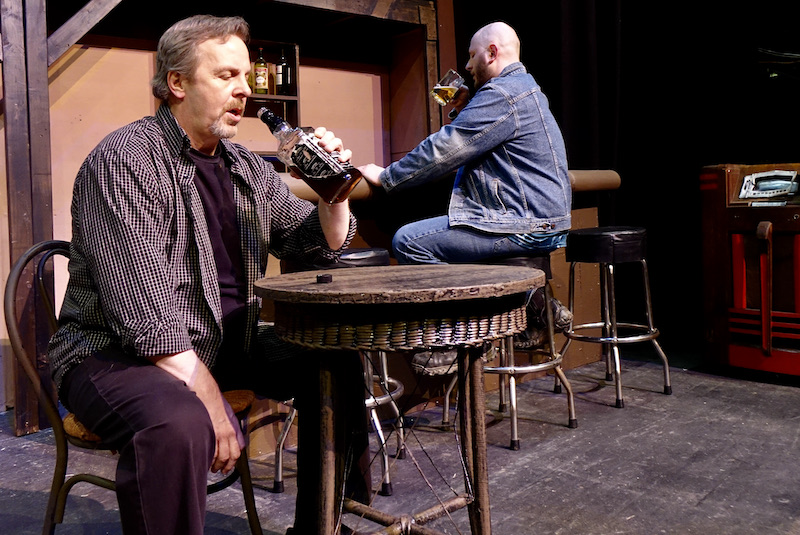 Thompson added, "One of the main reasons we do theatre is to raise questions about what it is to be a human being. And addiction is, for many of us, a part of being a human being. So, what I want for our audiences is to learn from this story."
While the story centers on serious subject matter, Thompson said, there are many comic moments along the way.
Thompson said playing the role of Tucker has been an honor and a challenge because, like Stobart, the character is complex.
He recalls Stobart discussing "Under the Bridge to the Stars" with him as he wrote it.
"It is a true honor to say these lines that Tom wrote during the years we were very close friends. It was difficult at first. Made me sad. Then, it turned into pride and joy because I am revisiting my friend in spirit. And we get to share his beautifully written play and this important message with our community."
Talented Cast & Director
P.D. Gregg directs the production and a talented cast of actors. In addition to Thompson, cast members include Amanda Leigh, Dee Gregg, Charles Griffith, Brian Jefferies, Brendan Sheehan, Moira Hamilton, CJ Farnsworth.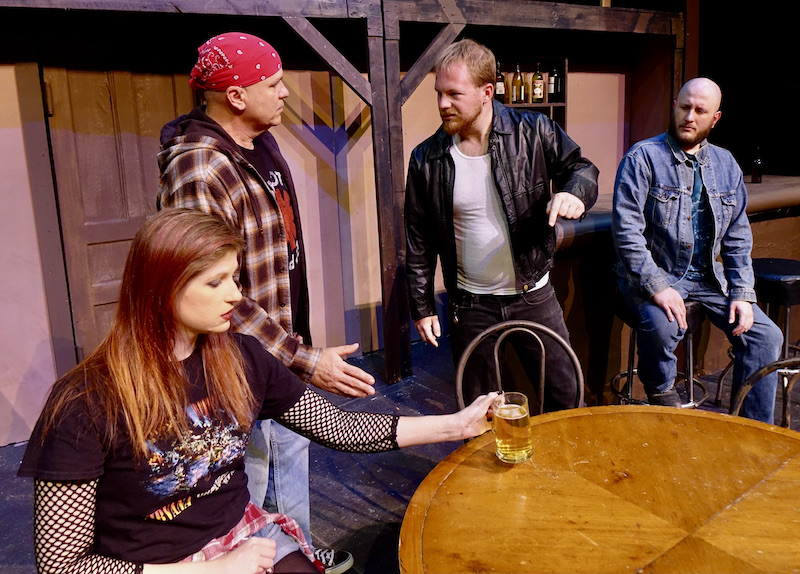 Get Tickets
Evening performances of "Under the Bridge to the Stars" take place at 8pm May 6, 7, 13 and 14. A matinee performance takes place at 3pm Sunday, May 8.
The production is part of Towngate's main stage season, which is sponsored by Unified Bank.
Purchase tickets online or call 304-242-7700. Tickets can also be purchased at the door, if available. Box office opens one hour prior to curtain.
Towngate Theatre is in Wheeling's historic Centre Market District. This church-turned-theater is one of several Wheeling venues operated by the non-profit Oglebay Institute. Other OI facilities include: The Stifel Fine Arts Center and School of Dance on National Road, the Mansion Museum, Glass Museum and Schrader Environmental Education Center in Oglebay.
In addition to community theater, Towngate offers children's theater, ballet, improvisational comedy, and live music. Towngate is also a single screen cinema, offering movies on select evenings and features changing art exhibitions in The Gallery at Towngate. Theater classes are also offered year-round.