Oglebay Institute's Towngate Theatre opens its 51st season of community theater with Paul Zindel's Pulitzer Prize-winning drama "The Effect of Gamma Rays on Man-in-the-Moon Marigolds." A story of perseverance and hope, many critics consider it one of the most significant and affecting contemporary American plays.
It will be staged for two weekends–September 20, 21 & 22 and September 27 & 28.
"Gamma Rays" tells the story of Beatrice, a bitter and domineering mother, and her two teenaged daughters, the studious Tillie and the emotional Ruth.
Life with the abusive Beatrice resembles a hell more than a home, but shy Tillie may have found a light beyond her bleak home life. Encouraged by her teacher, she undertakes a gamma ray experiment with marigolds for the school science fair. The project–which provides the play's title–helps her to begin to bloom. As Tillie's science experiment proves, something beautiful and full of promise can emerge from even the most barren, afflicted soil.
Stellar Cast
Dave Henderson directs they play and has assembled a stellar cast of local actors. Dee Gregg plays narcissistic, acid-tongued Beatrice. Carter Bauer plays the quiet and introverted Tillie. Grace Thompson has the role of Tillie's older sister Ruth. Rachel Thompson plays Nana, an elderly boarder. Taylor Andrews plays Janice Vickery, Tillie's rival at the science fair.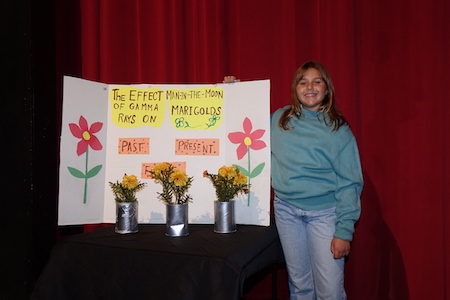 More About the Play
"The Effect of Gamma Rays on Man-in-the-Moon Marigolds" is Paul Zindel's best-known play. It is an autobiographical drama. Zindel loosely based it on his experiences growing up and modeled Beatrice, the main character, on his mother.
The play opened off-Broadway in 1970 and in 1971 made a brief jump to Broadway. Overall, the play enjoyed a very successful New York run of 819 performances. Zindel's portrayal of the painful side of family life struck a chord with audiences who found they could easily relate to the themes of loneliness and shattered dreams. The play was critically acclaimed and earned several awards, including an Obie Award for best play of the season (1970), the New York Drama Critics Circle Award for best American play of the year (1970) and the Pulitzer Prize for drama (1971). It was so popular that in 1972 Twentieth Century-Fox released a film version starring Joanne Woodward.
Towngate's 51st Season
This is the first play in Towngate's 51st season, which is sponsored by Unified Bank. Other upcoming main stage shows include: "The Littlest Angel" December 6, 7, 8, 13 and 14; "Brighton Beach Memoirs" March 20, 21, 22, 27, 28 and "The Book of Will" May 8, 9, 10, 15 & 16.
About Towngate
Towngate is the premiere venue for community theater in Wheeling, providing an intimate theater experience with talented local actors performing in a variety of though-provoking, heartwarming, comedic and historically significant works from renowned playwrights and talented newcomers.
A church-turned-theater, Towngate is located in Wheeling's historic Centre Market District and serves as an entertainment destination for residents of Wheeling, the Upper Ohio Valley and beyond. At Towngate, you can also see poetry and spoken word performances. Attend a ballet. Or take the kids to a children's theater production. You can enjoy improvisational comedy and live music, too! Towngate is also a single screen cinema. Changing art exhibitions can be viewed in The Gallery at Towngate. Theater classes are also offered year-round.
Get Tickets
Evening performances of "The Effect of Gamma Rays on Man-in-the-Moon Marigolds" take place at 8 p.m. September 20, 21, 27 and 28. A matinee performance takes place at 3 p.m. Sunday, September 22.
Purchase tickets online in advance or call 304-242-7700. You can also purchase at the door, if available. Box office opens one hour prior to curtain.