by Pete Fernbaugh
The following interview is part of an ongoing series about the history of Oglebay Institute's Towngate Theatre. Our thanks to Katie Crosbie, actor and former OI director of performing arts, for sharing her memories with us.
In Part 1 of our interview, published in March, Katie reflected on her history with the Towngate Theatre stage. This time, she looks back on her lengthy collaboration with Towngate founder Harold O'Leary.
Katie Crosbie remembers the early years of Oglebay Institute's Towngate Theatre as being fraught with long days and nights. She, Towngate founder Harold O'Leary and scenic designer Augusta Evans worked on the needs for every show, from directing to sets, costumes, props and lighting plots.
"There was a lot of sacrifice," Katie said. "I would say to him, 'Harold, it's Easter. We can't rehearse on Easter. Or Hal, it's Thanksgiving.' He was so focused. He went home promptly at 5 for dinner and was back at the theatre by 7. It was his routine."
"He Had Vision"
Prior to being hired by Oglebay Institute in 1965, Hal was involved with the Ohio Valley theatre troupe Players Incorporated. When OI approached him to develop a creative dramatics program, he immediately agreed.
"But he didn't know what the hell creative dramatics was," Katie said. "So he went to the library and did some research. That's the way Hal was. He had such confidence in himself and rightly so. He had vision."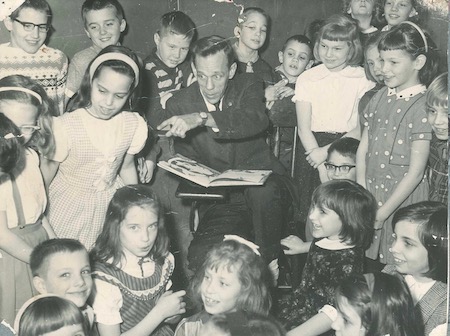 Hal and Oglebay Park designer Bob Otten began staging plays in the Carriage Barn on a shoestring budget. On Hal's birthday that year, the barn burned to the ground.
Undeterred, Hal simply found other spaces in which to perform. In 1967, he staged plays and held a few opera workshops in what is now The Sauder Gallery in Oglebay Institute's Mansion Museum.
"He would do theater wherever he could find a space," Katie said. "There was a coffee house called The Equinox. He used it briefly until it burned. Suffice it to say that both of the fires were from natural causes."
When an opportunity to rent the Baggage and Parcel Room of the old B&O Railroad came along, Hal was able to start a summer program for young people ages 12 to 21.
"And that is why the Towngate's summer program for high school and college-age students is called The Parcel Players," Katie said.
In 1968, the Zion Lutheran Church was vacating its Market Street facility, and the church leased the building to Oglebay Institute. In 1969, OI bought the church, which is where Towngate resides to this day.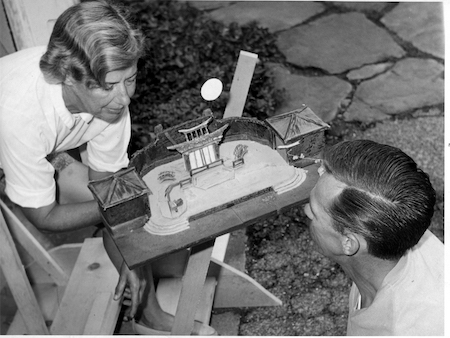 "Hal, Ted Spickler, Randy Harris and Augusta were master builders," Katie said. "They converted the sanctuary into a theatre. A local movie theater kindly gave us their old theater seats. They were made of horsehair and after a while, uncomfortable as hell."
Towngate Theatre staged its first play in 1969, and its first full season was presented in 1970.
"He Was a Pied Piper"
Hal attempted to cast at least one new person in every show, Katie said, and he encouraged people to explore their own creative forces.
"He never felt threatened by anybody else doing theater, but rather welcomed it, because he believed the more theater there is, the better it is for everybody, because people will develop the habit of attending or participating, and you can do both if you wanted. In that way, he was a pied piper."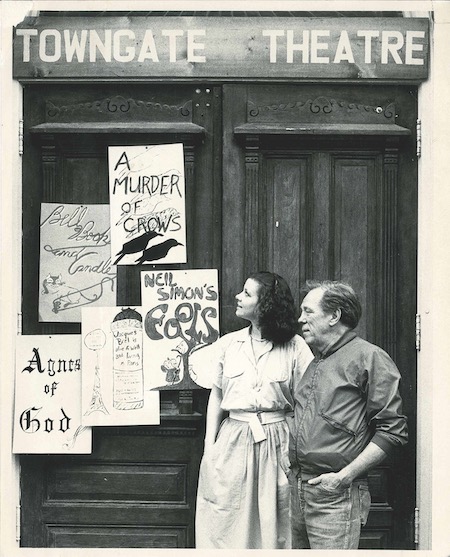 Early on, volunteer directors mounted five of the season plays. Eventually, OI was able to offer small honoraria to directors. There were many seasons when Hal directed all of the main shows.
"He Was a Free Spirit"
Katie's lengthy association with Oglebay Institute began in 1974 when she was hired as performing arts specialist.
"One of my early missions was to relieve Hal of many of the Towngate's administrative responsibilities so he could manage his already busy schedule of creating programs, teaching, directing and consulting," Katie said. "He was a free spirit and extremely creative."
Because of their prior collaboration in a variety of Towngate productions, she and Hal had developed a mutual trust and admiration.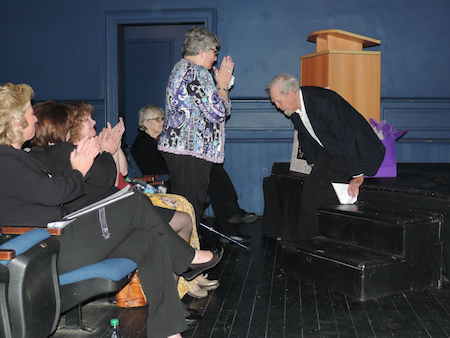 "Most of the time we were in concert with one another. I remember his calling me one blistering hot July day and saying, 'Katie, I need a Christmas tree.' And I said, 'Decorated or undecorated?' 'Oh, undecorated.' 'Okay, Hal, I'll get that.'"
"He Respected Everybody"
Developing shows that could be performed in area high schools was among Katie's earliest responsibilities at OI. Initially, this meant piling lights, scenery and actors into the Institute's old pickup truck and going from school to school in the Valley.
"Hal would get out his alligator clips, unscrew the panel on the electrical box, and tap into their power," she recalled. "We watched many a custodian plotz over that move. But, we needed to run our lights. We must have looked like vagabonds."
Playwright and actor Tom Stobart was part of that early troupe, Katie said. Tom was one of many talents for whom Hal provided creative opportunities.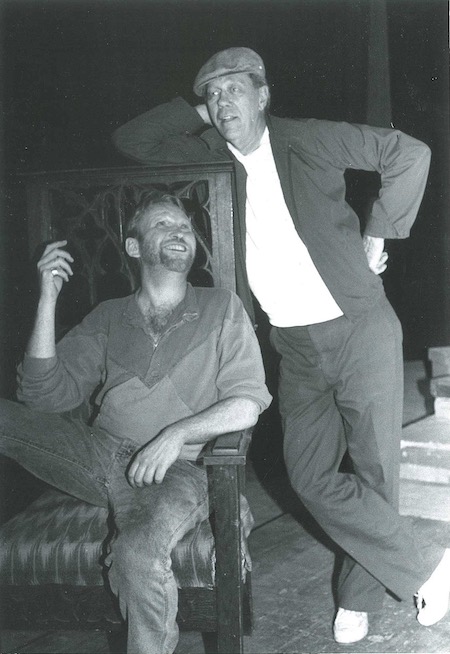 "Hal respected everybody. He may not have liked everybody, but he respected them, and he was grateful for their sacrifice, for what they were giving to the theatre. He was very welcoming. It was essential to him that everybody who walked in the door feel valued."
"He Was All About Truth"
Hal's legacy also includes his work on the Towngate stage. Katie recalled three of his memorable performances. The first was with actor Wade Hamlin in "I'm Not Rappaport" by Herb Gardner, the second with Paul Orr in "Sunshine Boys" by Neil Simon, and the third in "Pound" by Hal's son, Sean O'Leary, a play which is currently licensed by Dramatic Publishing and was recently produced with Christopher Lloyd in the lead role.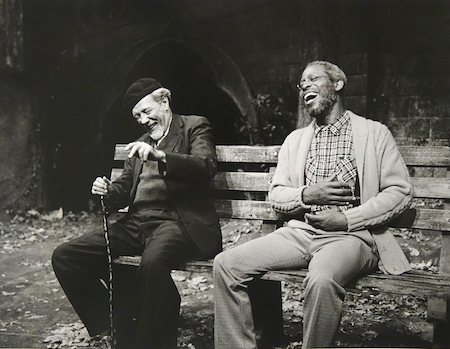 "Pound" was a stunning play for Hal to interpret with its beautifully written script, tailormade for his talent," Katie said. "It is a precious gift from son to father."
Hal continued performing late into his life, persisting through some daunting physical limitations.
"As Hal aged, his memory continued to be razor sharp, but he had some hearing issues which made it hard for him to hear cues," she said. "So he perfected the art of speaking when there was a break in the dialogue. That made for interesting rehearsals."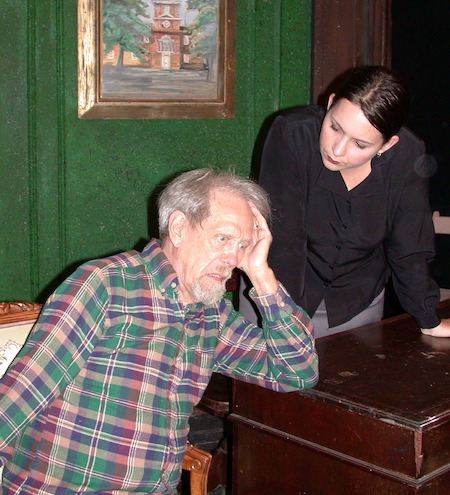 Katie remembered doing "Agnes of God" by John Pielmeier under Hal's direction alongside actors Maribeth Thompson and Debbie Hynes. "Agnes of God" is a gripping drama about a young nun who claims her dead newborn was the result of virginal conception.
"Even though Hal was an avowed atheist, he was all about finding the truth in a piece, and 'Agnes of God' was no exception," Katie said. "Creatively, he didn't want to settle for anything less. He peppered us with questions about the culture of the Catholic Church, and he worked with us to discover the finer points of the characters' motivations. It was difficult, but invigorating."
For an actor, audience response to "Agnes of God" was unsettling at first.
"The audience applauded, but then they would leave in silence," she said. "Hal didn't say a word to us either. We were used to him telling us, 'That was a really great show. Good job.' But he just looked at us and smiled.
"It was very unlike him, but I think he was overwhelmed. We had brought out the truth of the whole thing through the performance, and that's what he admired."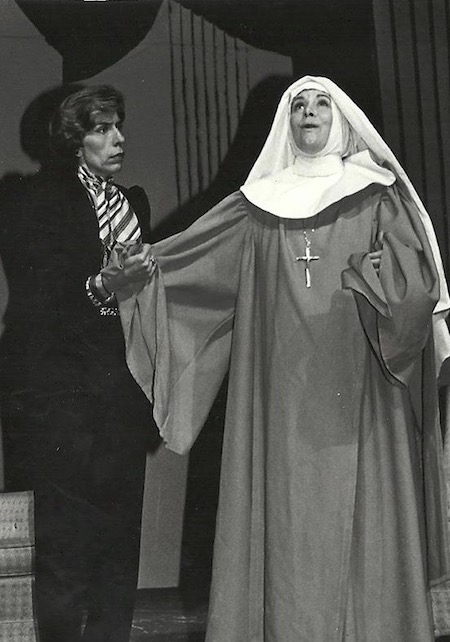 "We Grew in Our Own Creativity"
When Hal was first hired by Oglebay Institute, he began creating the blueprint for what Tim Thompson, the current director of performing arts, does now, Katie said. Hal would travel around to different schools and teach creative dramatics to first- and second-graders.
"[Towngate actor-director] Cathie Spencer was one of his first-graders," Katie said. "Hal always carried a briefcase I called his time capsule. He was talking to somebody about Cathie, and he reached into his briefcase and pulled out a 'Thank You' letter Cathie had written him when she was in first grade. Time and time again he could produce photos, scripts, poetry and lots of et cetera from that amazing case!"
Many future actors who would become staples of the Towngate stage first met Hal in their elementary classrooms.
"He was so proud of Cathie and Tim and proud of the theatre and of how it had developed and where it was when he died in 2018," Katie said.
The task Hal and his dedicated troupe of vagabonds had undertaken in building Towngate Theatre may have been challenging, but Katie remembers it as a magical time.
"When you're in a job like that, you find your pockets of pleasure that help you de-stress. And mine was sitting on the stage on the stool with the cracked top talking to Hal while he pounded nails and built things. Because that's where we got stuff done and where we grew in our own creativity."