By Mario Muscar
There are people who have impacted my life in different ways. Some of these include my high school biology teacher, Anita Byrd, who instilled in me an appreciation of science and steered me toward Wheeling Jesuit University (Wheeling Jesuit College at the time) or my best friend's father, Mike Simons, who showed me that being funny is one of the greatest things that one can be. And there were many directors and other theater people who fostered in me the love of performing for people. One of these directors was Dave Henderson.
Dave Henderson wasn't the first director that I ever came across. I had been acting in plays since I was in elementary school. I didn't meet Dave until my freshman year at college. But he wasn't the first director I met there either. The first play I was in at college was a one act directed by the Dean of the college. Dave wasn't even the second director I came into contact with at Wheeling Jesuit. That honor goes to current Towngate director of performing arts Tim Thompson. Tim was employed at Wheeling Jesuit at the time.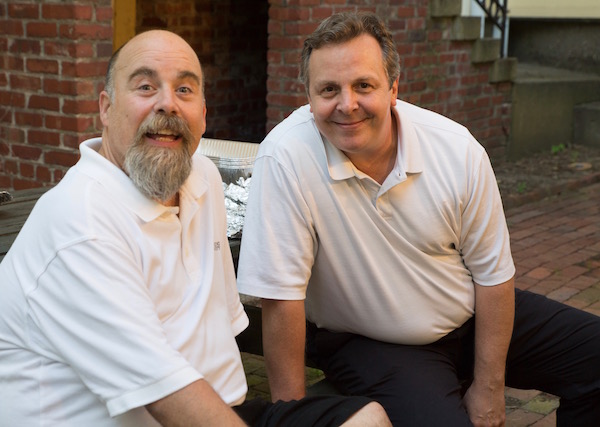 I auditioned for their production of "The Glass Menagerie," directed by Tim. I wasn't cast (Don't worry, Tim. I'll forgive you someday!) It wasn't until the late fall of my freshman year that I met Dave. There were auditions for the children's play that year, and Dave was the director. The show was "Rumpelstiltskin" I remember auditioning for him in a room of what would eventually be named Ignatius Hall. I did a silly laugh in my audition and hopped around like a fool. It must have been good enough as Dave cast me as the mischievous imp himself. It turned out to be one of my favorite roles of all time.
A Life in Theater
Dave, who started full time at Towngate Theatre on July 1 of this year as the artistic director, has been working with theater in the area for decades. I chatted with him about his history with theater.
"I've been doing theater since high school—about 35 years," Dave said. "I was the full-time technical director at Towngate for seven years and then was at Wheeling Jesuit for 30 years. I have also been doing theater at Central Catholic High School for 14 years."
Like me, I am sure that all of this time working in theater has certainly affected many people who have had the great fortune to work with Dave. Dave said that he is happy to be involved in their lives.
"As I have spent most of my career working with younger actors, watching them develop as actors and performers as well as human beings, knowing that I had a very small part in that process has always given me great satisfaction," he said.
Dave Directs the Holiday Show at Towngate
Dave is currently working on the upcoming Towngate Theatre production of "It's a Wonderful Life: A Live Radio Play." He is directing the show, which takes the beloved American holiday classic and brings it to captivating life as a live 1940s radio broadcast.
"Performing this classic piece as a radio show will be very challenging," Dave said.
"The actors are only able to bring the characters to life using their vocal skills, and there will be lots of Foley sound effects created live during the performance. This style of a performance might seem strange to audiences at first, but I am sure that the talented cast and crew will be able to create a charming and entertaining version of the iconic story that will be sure to get audiences into the holiday spirit and offer a welcome respite from the chaos of what is going on the world today."
The show runs December 1-3 & 8-9. Click here to read more about the show.
While Dave's entire life may seem like it is all theater, he certainly enjoys less dramatic things. He likes gardening and working outside in the summer, doing projects around his house, spending time with his dog, Sancho, and rummaging through antique stores, junk stores, and flea markets, in search of the perfect treasure or maybe even a great stage prop.
I am very fortunate to have a person like Dave in my life. And we are all fortunate to have him as part of the Towngate Theatre community.