Since the program's inception in 1929, accomplished instructors from across the country have been traveling to teach, learn, and explore in the unique Appalachian Highland habitats. The staff at Mountain Nature Camp consists of talented teachers and regional experts in the fields of natural history, nature study, and education who strive to inspire campers through hands-on field trips and lively discussions.
Ken Dague: Mountain Camp Manager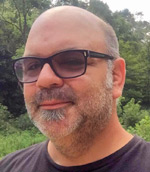 Ken Dague is not a new face at Oglebay Institute. His work with the Institute began in 1994 as the Environmental Education Coordinator at the A.B. Brooks Nature Center. He returned again in 2006 for a stint before he was swept off to Australia for 8 years of adventure and romance. Nowadays, Ken is back, now in the role of Mountain Camp Manager and Naturalist.
Ken graduated from Clarion University (1994) with a degree in Environmental Education and from MEGT (2012) with a degree in Conservation and Land Management. In addition to his work with Oglebay Institute, Ken has worked as a park ranger in Massachusetts, Director of Education at a Michigan wilderness centre, a wilderness guide in Tasmania's World Heritage Area, and manager of Gulf Station, a heritage site in Victoria, Australia. In 2010, Ken's innovative program, The Bonnet Island Experience, was the recipient of both the Tasmanian and Australian Tourism Initiative of the Year awards.
If there is a role to be filled at camp, you can be sure Ken has been there and done that, as he has been deeply involved with the industry for 30 years. In addition to his experience in the camping industry Ken has successfully through-hiked the Appalachian Trail, Allegheny Trail, and Laurel Highlands Trail. He currently holds certifications in Wilderness First Aid, NAI Interpretation, Elementary Education, Ropes Course Management and Delivery, Elements of Shipboard Safety, and Forklift Operation. Ken is also an avid lover of music (he plays the guitar, mandolin, and banjo) and spearheads Oglebay Institute's bluegrass and Americana music series, Mountain Moon Coffeehouse v2.0.