Customer Service Representative (Part Time)
Schrader Environmental Education Center
Primary Function:
Under the supervision of the Assistant Director, the CSR serves as liaison between Oglebay Institute's program departments and the diverse customers visiting its facilities, attending its programs, requesting information and seeking personnel. A CSR will perform various customer service responsibilities that meet or exceed professional standards and customers' expectations; this includes greeting visitors, answering phones, opening and closing the building, acting as retail staff in the Samara Shop, and communicating positively with all OI staff and constituents.
Qualifications:
Must be at least 18 years of age.
Must have a valid Driver's license.
CPR/AED and first aid certification preferred.
One to three years successful customer service experience, including cash handling
Required Knowledge:
Working knowledge of the Microsoft Office suite of software programs and ability to learn registration and POS software quickly
Knowledge of customer service best practices
Ability to articulate effectively in both oral and written form
Proven problem solving, organization and time management skills
Hours:
Part-Time Customer Service Representatives' hours will vary on an "as needed" basis.
Candidates may apply by submitting cover letter, resume and completed OI employment application via email to Molly Check or by mailing to:
Schrader Center
attn.: Molly Check
1330 National Road
Wheeling, WV 26003
Deadline to apply is Monday, October 7, 2019.
Stifel Fine Arts Center, School of Dance and Towngate Theatre
Oglebay Institute is seeking teaching visual & performing artists to fill a variety of positions throughout the year including year-long residency programs in area schools and adjunct instructor positions at the Stifel Fine Arts Center, School of Dance and Towngate Theatre.
Click here to complete a teaching artist application.
Schrader Environmental Education Center
The Schrader Environmental Education Center is always looking for passionate environmental educators to consider for part time and full time positions. Please send your resume to Molly Check if you would like it to be considered for future job opportunities.
About Oglebay Institute: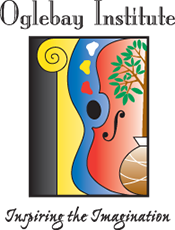 OI is a 501(c)3 organization located in Wheeling, WV. Since its founding in 1930, OI has been successful in serving the residents and visitors of the Upper Ohio River Valley by providing quality programming in five discipline areas: environmental education; performing arts; regional history interpretation; visual arts; and dance. These program areas and the facilities in which they reside, are supported by centralized administrative, finance, marketing, and development departments.
OI serves a wide geographic service area that includes Northern West Virginia, Eastern Ohio and Western Pennsylvania. More than 90,000 individuals participate in the organization's programming annually; nearly half of participants are children.