Multimedia Designer/Marketing Specialist
Full-time; Exempt
Primary functions:
Under the direction of the Director of Marketing and Communication, the Multimedia Designer/Marketing Specialist develops an acute understanding of Oglebay Institute and its members and patrons to plan and execute marketing activities. The successful candidate plays an integral role in branding and promoting Oglebay Institute, its venues, and its programs to a diverse audience and creates strategies to strengthen engagement and expand participation.
The Multimedia Designer/Marketing Specialist must have the ability to transform marketing concepts into visual and written representations to support organizational goals and strategies and serves as part of the communications team to craft messaging and implement integrated campaigns.
This position is responsible for the digital content and graphic design needs of the marketing department, serves as the website designer/manager for the Institute, maintains Oglebay Institute's email marketing software, and produces and integrates video, graphic images, animations, sound, and text into multimedia storytelling efforts.
Qualifications:
• Bachelor's degree or equivalent continuing education or professional development in communications, design, journalism, marketing, new media or a related field
• 2-3 years of professional experience working within a marketing or communication-related field, inclusive of the creation of digital and print marketing content
• Must be fluent in Adobe Creative Suite as well as proficient in Microsoft Office (Office 365 preferred); MAC experience preferred
• Experience in website development and social media management
• Solid knowledge of SEO, keyword research and Google Analytics
• Experience in photography and use of DSLR camera
• Experience in producing and editing videos for website, social media, and e-communication platforms
• Strong verbal and written communication skills
• Copywriting experience
• Demonstrated skills in editing and proofreading
• Experience managing a budget for a program or campaign
• Experience working in a CRM is helpful
• Excellent organizational skill, attention to detail, ability to meet deadlines
• Ability to complete a high volume of work quickly, while maintaining quality.
• Demonstrated commitment to promoting and integrating equity, diversity, inclusion, belonging, and justice
**Applications without a digital portfolio will not be considered.
Typical duties and responsibilities:
Design, Content Development and Brand Management
This position is responsible for creation and coordination of all graphic design creative work pertaining to print and digital media designs. Plans and directs projects end-to-end.
Develops and enforces graphic standards and consistency of marketing materials throughout the organization and ensures the correct use, treatment and protection of the Institute's name and logos.
Schedules printing of promotional materials while serving as the direct liaison to service agencies and printers and coordinates all bulk mailings related to promotion.
Photography
Position is responsible for Oglebay Institute photography and editing of images.
Email Marketing
Manages the organization's email marketing software for purposes of digital promotional materials and event invitations.
Website
Responsible for design, maintenance and functionality of the Institute's website.
Works in conjunction with the marketing director and program directors to ensure all content stays current and special events and program opportunities are being promoted online.
Video
Creates and/or coordinates the creation of animation and video content for website and social media.
Social Media
Develops and posts regular content to social media accounts and develops a social media content calendar in conjunction with marketing director.
CRM
Assists in the event entry component (including classes, camps, and public events) of the organization's online registration system, ensuring accuracy, timeliness, and front-end and back-end functionality.
Other
• Attends internal and external events to foster public relations and to promote the Institute's image and goals.
• Creates content for monthly marketing & board reports including tracking and reporting of social media and website metrics, SEO performance, as well as an overview of marketing initiatives and campaigns.
• Assists with copywriting and proofreading as needed.
• Assists in the development of the marketing budget.
• Manages the digital asset library.
• On occasion, other duties may be required to satisfy the needs of Oglebay Institute and its marketing department.
Working Conditions/Work Schedule:
Work will generally be between 9:00 am – 5:00 pm in an office environment. Position may be required to work some evenings and weekends, as well as may be required to travel for local and regional outreach events on occasion.
To Apply:
Submit the following electronic documents:
1. A resume (limit 2 pages)
2. A cover letter indicating how your qualifications and experience have prepared you for this position
3. A digital portfolio that represents your work
4. A diversity statement that addresses the following: Describe how your experience will assist you in supporting OI's commitment to promoting and integrating Equity, Diversity, Inclusion and Accessibility.
5. The names of three professional references, their email addresses and telephone numbers
Send application materials to: marketing@oionline.com.
List the job title in the subject line.
Deadline to apply is December 15.
Stifel Fine Arts Center, School of Dance and Towngate Theatre
Oglebay Institute is seeking teaching visual & performing artists to fill a variety of positions throughout the year including year-long residency programs in area schools and adjunct instructor positions at the Stifel Fine Arts Center, School of Dance and Towngate Theatre.
Click here to complete a teaching artist application.
Schrader Environmental Education Center
The Schrader Environmental Education Center is always looking for passionate environmental educators to consider for part time and full time positions. Please send your resume to Molly Check if you would like it to be considered for future job opportunities.
About Oglebay Institute: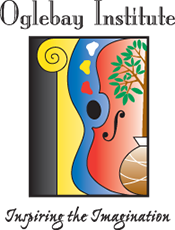 OI is a 501(c)3 organization located in Wheeling, WV. Since its founding in 1930, OI has been successful in serving the residents and visitors of the Upper Ohio River Valley by providing quality programming in five discipline areas: environmental education; performing arts; regional history interpretation; visual arts; and dance. These program areas and the facilities in which they reside, are supported by centralized administrative, finance, marketing, and development departments.
OI serves a wide geographic service area that includes Northern West Virginia, Eastern Ohio and Western Pennsylvania. More than 90,000 individuals participate in the organization's programming annually; nearly half of participants are children.