Executive Assistant – Administration
Full-time; Exempt
Primary function:
This position reports directly to the President, works with other organizational leadership and will be responsible for performing high-level, confidential administrative and office support.
Qualifications:
Successful candidate will have exceptional organization skills, experience with donor database and/or customer relationship management software, excellent communication and customer service skills, and the ability to work independently, creatively, collaboratively, and with integrity; and be dedicated to Oglebay Institute's mission to "foster appreciation, expression and discovery by engaging people of all ages and abilities through exceptional programming in performing and visual arts, dance history, and nature."
At least an Associate's degree in business or comparable, database experience and at least 5 years of experience in an administrative setting preferred with office coordination experience, customer service experience, and excellent computer skills including database management and Microsoft Office programs.
Typical duties:
Answering incoming calls
Customer service relations
Database management
Organizational calendar management
Assisting with special fundraising events
Managing membership campaigns, donation and pledge entry
Initiating purchases, maintenance and/or reports of computer hardware software and licensing
Serve as the organizational liaison for tech support with the contracted company
Serves as a member of the organization's Leadership Team
To apply, complete an OI employment application and submit with a current résumé including salary history to:
Oglebay Institute
attn.: Director of Administrative Services
1330 National Road
Wheeling, WV  26003
Inquiries can also be emailed to conniemoore@oionline.com
Deadline to apply is September 27, 2021.
Naturalist – Schrader Environmental Education Center
Full-time; Exempt
Primary function:
Under the supervision of the Director of Schrader Environmental Education Center, the Naturalist is responsible for the development, organization, and presentation of environmental education and interpretation programs for various audiences, including youth and family programming, school programs, and the general public.  This position may include the opportunity to manage daily operations of Nature Day Camp.
Qualifications:
Degree in environmental education, natural sciences or related field, or equivalent work experience.
Knowledge of interpretation, environmental education and/or outdoor education best practices.
Natural history knowledge of local flora and fauna.
Valid driver's license and access to personal vehicle for offsite programming.
Ability to communicate well in both oral and written form.
Ability to work as part of a team.
Typical duties:
Teach school, public, and special event programs individually and in cooperation with other staff.

 

Design and/or follow lesson plans. Assist with program evaluation and revision.
Assist with the care, feeding, housing and well-being of display and education animals.

 

Animals currently include snakes, turtles and amphibians.
Confer, advise, and cooperate with local and regional schools, groups, organizations, agencies, institutions, individuals, and others who have an interest in the program areas developed by the department.
Complete the work of the department in accordance with the general policy, aims, and objectives of Oglebay Institute.
Consult with departmental and Institute personnel on long-and short-range goals and objectives associated with the department.
Communicate job-related issues and/or need for assistance to the SEEC Director.
Interact with the public with a cheerful and positive attitude, solve guest's problems and complaints in an appropriate manner and maintain harmonious working relationship with fellow employees.
Assist as needed with natural resources management, upkeep of interpretive exhibits and displays including animal care, and facility maintenance.
Attend in-service training and staff meetings as required; prepare and maintain accurate written and oral reports as requested; follow written and oral instructions.
Perform other duties as assigned.
This position may include the opportunity to manage daily operations of Nature Day Camp.
Oversee daily operations of Nature Day Camp.

 

Recruit, train and supervise Nature Day Camp Counselors.

 

Purchase and coordinate supplies for camp activities.

 

Supervise day campers in all activities, including lunch, trips to the pool, and weekly cookout.

 

Provide a safe and educational experience for all day campers.
Candidates should forward their résumé, cover letter and a completed OI employment application to Molly Check.
Stifel Fine Arts Center, School of Dance and Towngate Theatre
Oglebay Institute is seeking teaching visual & performing artists to fill a variety of positions throughout the year including year-long residency programs in area schools and adjunct instructor positions at the Stifel Fine Arts Center, School of Dance and Towngate Theatre.
Click here to complete a teaching artist application.
Schrader Environmental Education Center
The Schrader Environmental Education Center is always looking for passionate environmental educators to consider for part time and full time positions. Please send your resume to Molly Check if you would like it to be considered for future job opportunities.
About Oglebay Institute: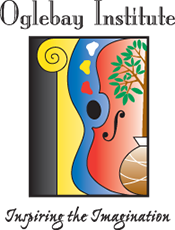 OI is a 501(c)3 organization located in Wheeling, WV. Since its founding in 1930, OI has been successful in serving the residents and visitors of the Upper Ohio River Valley by providing quality programming in five discipline areas: environmental education; performing arts; regional history interpretation; visual arts; and dance. These program areas and the facilities in which they reside, are supported by centralized administrative, finance, marketing, and development departments.
OI serves a wide geographic service area that includes Northern West Virginia, Eastern Ohio and Western Pennsylvania. More than 90,000 individuals participate in the organization's programming annually; nearly half of participants are children.