The strength of Junior Nature Camp's staff comes from their years of experience and varied backgrounds. Small group sessions are led by experts in their field including college professors, researchers, natural resource professionals, and professional interpreters. Former campers, now nature experts, return to serve as counselors and stay in the units with the campers. The Camper to Staff ratio never exceeds 5:1.
Jeff Altemus – Director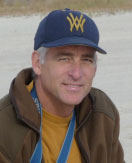 Growing up in Michigan, Jeff was always interested in the outdoors — spending his free time on the lake, hiking in the woods or sloshing through a swamp. "Nature was all around us and it was 'natural' that I began to study it in earnest at a young age," he recalls. Along with his twin brother Jon, birding and ornithology became his passion.
Jeff graduated with a bachelor's degree in Geography and a master's Degree in Education from West Virginia University. After working 33 years for West Virginia University he is temporarily retired, exploring North America with his family in an RV.
Jeff first attended Junior Nature Camp at the age of 11 years old. He progressed through the program as a C.I.T. and staff member until the age of 22. As a young man, Junior Nature Camp was the highlight of his year. Jeff states, "I could not wait for it to come each year and was very sad when it ended all too soon."
In 2002, Jeff returned to Junior Nature Camp as director and has lead a resurgence and unprecedented growth in the program. While most campers remember him for flipping pancakes during breakfast, it is his leadership in connecting with past campers and attracting dynamic teachers that has cemented JNC well into its seventh decade. Jeff affirms, "I have always been interested in doing my part to take care of our natural environment and wanted to be in a position to make a difference. As Director of Junior Nature Camp, I am actively contributing to the nature education of young people. What better way to make a positive contribution to protecting our natural world?"
Lenny Muni – CIT Director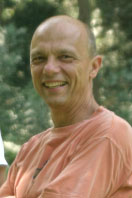 Currently serving the Berea City School District, Lenny is the director of Camp Mi-Bro-Be, the district's camping, nature and outdoor education program for 6th graders. Lenny also directs the School District's planetarium. He is the current president of the Cleveland Astronomical Society.
In 1976, Lenny began attending Junior Nature Camp as the counselor in training director and has been C.I.T. director for more than 30 years. He also continues to be part of Oglebay's Mountain Nature Camp staff, leading campfires and teaching astronomy. Lenny is an invited presenter for various nature organizations around the region including the Brooks Bird Club. His passion for teaching usually includes sessions on astronomy. Lenny is famous for his talented singing and guitar playing around the campfire.
Natasha Diamond – Program Director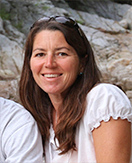 Natasha's love for nature and the great outdoors began at a young age on her family's farm in Ohio. While in school, her focus became on raising awareness of the degradation of the environment around us. She is one of the founding members of the West Virginia University Student Sierra Coalition. Natasha went on to earn a bachelor's degree in Wildlife Resources from WVU and a masters in Public Administration and Nonprofit Management. She has worked for the West Virginia Division of Natural Resources, West Virginia Raptor Rehabilitation Center and in program and finance for the Mountaineer Area Council Boy Scouts of America.
The 2016 camping season will mark her 15th year of involvement with Junior Nature Camp. Natasha enjoys the opportunity to provide nature education to young people. It is her hope each camper finds something to take back to their lives — at home and at school — that will somehow change them and their small part of the world
Dave Sapienza – Naturalist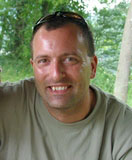 Dave Sapienza first attended Junior Nature Camp in 1983 after the encouragement of his sixth grade teacher, Mr. Lenny Muni. Dave graduated from The Ohio State University in 1994 with a Bachelors degree in Environmental Interpretation, Communications and Education. He has worked as a Park Naturalist for Ohio State Parks since 1992 including Salt Fork State Park (1992-1994) and Lake Hope State Park (1994-present). In 1998, he was awarded the first Annual Bill Price Award for Interpretive Excellence in Ohio State Parks. In 2002, The Lake Hope Nature Center, which Dave directs, was voted the best in Ohio State Parks. He has also worked with Oglebay Institute as a R.E.A.P Assistant Director and a college intern and is a certified Ohio Peace Officer.
Annually, his creative morning programs are a highlight of the camp. Dave is a talented teacher, and his passion for exciting youth about the natural world leads to unique opportunities such as hand-feeding hummingbirds.
Christina Slover – Naturalist
Christina grew up in the Finger Lakes region of New York State and spent most of her time in the outdoors exploring, hunting and fishing. Her passion for the outdoors and for wildlife led her to pursue a career in wildlife management. After obtaining an associate's degree in environmental studies from Finger lakes Community College, her love of travel brought her to Bozeman, Montana where she attended Montana State University. While in Montana she assisted with research on whirling disease in trout and studied nutrient uptake & energy flow in Yellowstone streams.
Christina moved back to New York in 2010 where she received her bachelor's degree in wildlife management from SUNY Cobleskill. In 2014, she graduated from West Virginia University with a master's degree in wildlife and fisheries resources. Christina's graduate research focused on avian community differences between burned & unburned deciduous forest stands within the Monongahela National Forest (MNF) in West Virginia. She is also first author of an article published in the Wilson Journal of Ornithology on developing a map to predict eastern whip-poor-will presence using landscape variables and occupancy modeling.
After graduation, Christina worked as an academic laboratory manager with the Biology Department at WVU for a couple of years. She then took a job in Tiffin, OH as a farm bill wildlife biologist with Pheasants Forever. Both positions have grown Christina's passion and experience as an educator. She now resides in Barnesville, OH where she enjoys spending time with her family as well as hunting and birding. Christina is excited to be joining the Schrader Environmental Center as a naturalist and hopes that she can share her passion for environmental conservation with the public through all of the great programs that are offered.
Kim Henderson – Head Cook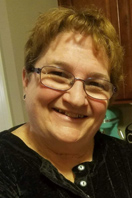 Kim is from Barnesville, OH, originally born and raised in Whittier, CA.  She joined the Air Force at 19 and after serving 5 years, married John Henderson, who she met on her last assignment.
She moved to Ohio in 1979 and raised a family while serving as a Girl Scout leader for 12 years.  Her association with Girl Scouts is what led to her tenure as Head Cook for Junior Nature Camp with Oglebay Institute's Schrader Center.  She started in 1995 with Billie Altemus as Director and Jim Denham as Kitchen Coordinator. What an awesome start!
What a lot of her peers there didn't realize is that she loved Nature! She loved 6th grade outdoor education camp, always jumped at a chance to go camping as a child, and took every job the Scouts offered to cook at their camps.  She does what she can to keep healthy enough to continue working at JNC because she loves it there!
Jessica Woodward – Volunteer
When Jessica and her family dropped her brother off at Junior Nature Camp in 1981 she knew she had to come to camp herself the next year when she was old enough.  And so she started attending in 1982 and continued as a camper, CIT and counselor for the next 10 years.  Jessica never forgot the special times and friends she made at JNC, so after her daughter, Abby, started attending camp in 2007 she got the itch to return and came back as an adult volunteer in 2009.  While at camp she may be helping out in the kitchen and dining hall, leading a morning bird walk or a morning session, or just sitting on the porch talking to the campers about their day.   Jessica and her husband, John (who is also a volunteer at camp), live in Gastonia NC.  During the other 50 weeks of the year, she works for the Gaston County Family YMCA as the business manager.  In her spare time she enjoys birding and hanging out with and walking her two dogs, Oscar and PJ.