Towngate Theatre Presents A Very Bridge + Tunnel Christmas
sat16dec7:00 pmTowngate Theatre Presents A Very Bridge + Tunnel Christmas
Event Details

Join members of the Bridge & Tunnel Collective and some very special guests for a holiday revue for all ages 7pm Saturday, December 16, 2023 at Towngate Theatre.

The concert will put audience members in a festive mood as multiple musicians take the stage, performing original pieces chock-full of holiday themes. Plenty of holiday standards also make their way to the set list.

Sponsored by Main Street Bank.

Beer and wine will be for sale. Guests can also meet and mingle with the musicians during an after party immediately following the show.

All tickets are $10. Purchase online, by calling 304-242-7700 or at the door, if available.
More about the Bridge & Tunnel Collective:
The Bridge + Tunnel was formed in the last 2010s as an association of original songwriters and creatives in order to better promote the music and art scene in the Ohio Valley and the greater Tri-state area. The Collective took over the curation and hosting responsibilities for the "3rd Friday at Artworks" concert series for several years. "A Very Bridge + Tunnel Christmas" shows have grown over the years into must-see holiday events, and the Collective has raised money for several local charities.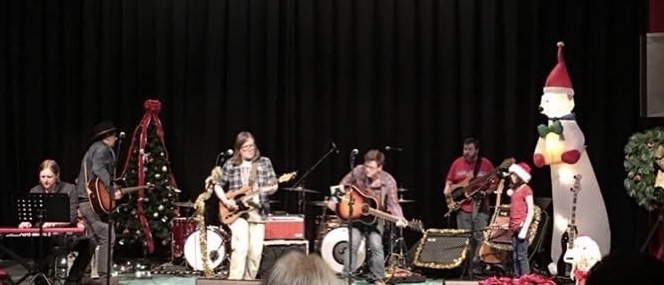 Towngate Supports Live Music
Towngate proudly supports live music in Wheeling. Some of the region's most versatile and entertaining musicians perform on the Towngate stage on select weekends throughout the year.
Towngate is more than just theater…

A church-turned-theater, Towngate is located in Wheeling's historic Centre Market District. Towngate is a cornerstone of creative life in Wheeling and serves as an entertainment destination for residents of Wheeling, the Upper Ohio Valley and beyond. People of all ages and backgrounds gather here to create and experience art onstage.
At Towngate, you can watch live theater.  Listen to poetry and spoken word performances. Bring the kiddos to a children's theater production. Attend a ballet. You can take a class or audition for a play. We also showcase improvisational comedy. Local and regional musicians also perform on the Towngate stage. You can see movies, too! Enjoy hundreds of live performances, concerts, events and classes year-round. See you at Towngate!
Location

Towngate Theatre

2118 Market Street Wheeling WV 26003