"Lest We Forget," An Artistic Reaction of the Holocaust
fri09sep(sep 9)6:00 pmmon21nov(nov 21)1:00 pm"Lest We Forget," An Artistic Reaction of the Holocaust
Event Details

The Gallery at Towngate hosts "Lest We Forget," an artistic reaction of the Holocaust, by Wheeling resident Russ Schultz.

In 2019 Wheeling Park High School art teacher Russ Schultz traveled to Poland to study the Holocaust with Classroom Without Borders. He walked some of the sites and heard the stories from survivors who suffered through the darkest days of humanity. In response to this experience, he created the exhibit "Lest We Forget," which features more than 40 black-and-white pieces, along with accompanying artistic statements, that chronicle some of the events of the Holocaust.

An opening reception takes place from 6-8pm Friday, September 9. It is free and open to the public.

The exhibit is on display through November 21. The Gallery at Towngate is open 11am-1pm Monday through Friday and during all events.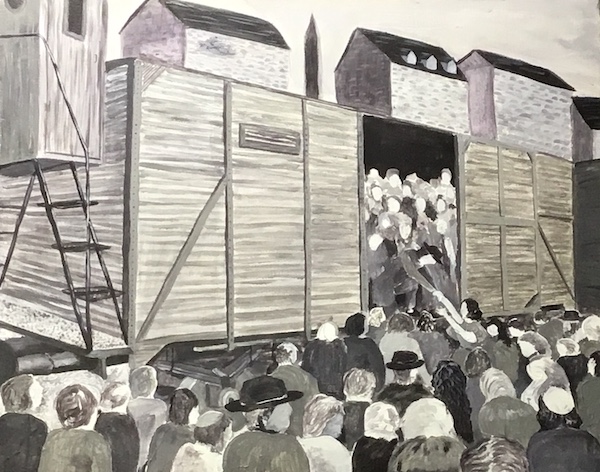 The Gallery at Towngate
Towngate Theatre is well known in Wheeling and its surrounding communities for community theater productions, children's theater, concerts, ballet, film screenings, spoken word and other performing arts events. But did you know that Towngate is also an art gallery?
The Gallery at Towngate is a small space gallery that features the work of local and/or emerging artists and focuses on community engagement, inclusion and the mingling of visual and performing arts.
2022-23 Gallery at Towngate Exhibition Schedule:
September 9–November 20: Russ Schultz
December 1–January 15: Cheryl Ryan Harshman
January 21–February 26: West Liberty University Creative Arts Therapy Student Exhibition
March 3–May 21: Ceramic artists Jen Allen & Richard "Duke" Miecznikowski
June 2–August 7: Pamela Cooper
Time

September 9 (Friday) 6:00 pm - November 21 (Monday) 1:00 pm
Location

Towngate Theatre

2118 Market Street Wheeling WV 26003