The Art of Aging Exhibition: Celebrating Lifelong Creativity
thu13apr(apr 13)9:00 amfri26may(may 26)5:00 pmThe Art of Aging Exhibition: Celebrating Lifelong Creativity
Event Details

The Art of Aging explores the ways in which creativity opens our minds to possibilities and provides a sense of purpose in an ever-changing world and throughout all stages of our lives. It celebrates artists who have spent their lives creating, showcases the role art plays in building community, promotes cross-generational artistic collaboration, and highlights the power of artmaking to foster health and well-being, both mentally and physically.

The three-part exhibition features work by 10 lifelong master artists, actively working in a variety of mediums. It also includes artwork created by artists after a series of visits with an elderly loved one, friend, or neighbor. Stories, reflecting on how the collaborative process inspired the work, accompany each piece. The third component showcases art created by older adults participating in art-making workshops at senior care centers and retirement communities.

The exhibition is on display April 13-May 26, 2023 at Stifel Fine Arts Center. Regular gallery hours are 9am-5pm, Monday through Friday and 10am-4pm, Saturday.

Admission is free.

Sponsored by The Health Plan and United Bank.
Master Artists Featured in The Art of Aging 
Bob Villamagna: Metal Collage Work
Cecy Rose: Mixed Media/Painter
Kathleen Zimbicki: Watercolorist
Herb Weaver: Ceramic/Mixed Media Artist
Elizabeth Hestick: Printmaker
Lambros Tsuhlares: Potter
Susie Sparks: Mixed Media Artist
Holly Dobkin: Metalsmith/Jewelry
Jane Ogren: Fiber Artist
Ilene Leder-Winn: Illustrator
Opening Reception
Join us at 6:30pm Thursday, April 13 for the opening reception of The Art of Aging. View the exhibition, meet some of the artists, and enjoy refreshments.
Admission is free for the opening reception.
Register online or call 304-242-7700 to attend the opening reception. RSVPs are appreciated, but not required. All are welcome.
Free Workshop Series
In conjunction with "The Art of Aging," a series of free workshops with lifelong artmakers invite adults of all ages to explore a variety of creative media, including fiber arts, clay, drawing, watercolor, and more.
Fiber Arts Workshop 
Saturday, April 15; 1-3:30pm
Instructor(s): Jane Ogren
No rules for stitching…just experimentation and fun. Students can enjoy stitching and explore the endless range of effects and textures. Techniques explored are meant to be creative and be interpreted in various ways. Enjoy a relaxing and mediative experience. Instructor provides fabric, needles, and some threads. Students won't complete stitching in the time allotted but can take it home to finish. (Limit 12)
Free. Donations Accepted. Pre-Registration Required.
Register online or call 304-242-7700.
Clay Quilt Raku Workshop (Sold Out)
Saturdays, April 22 & 29; 10:30am-1:30pm
Instructor(s): Herb Weaver
This clay making and raku workshop includes two sessions. (Limit 12)
SESSION ONE: Ceramic Quilt Making! Every participant makes a small quilt of 9 pieces, (each 6″ by 6″ in size) as well as 2-3 extra pieces. The extra pieces become the "Community Quilt," which will be displayed at Stifel Fine Art Center. Templates and design ideas will be facilitated with step-by-step instruction.
SESSION TWO: After work completed in the first session is bisque-fired, the second session includes applying glazes and firing in the ancient method of Japanese Raku that entails immediate and mysterious results. The class culminates with the act of tying together the quilt pieces.
Free. Donations Accepted. Pre-Registration Required.
Good Things Come in Small Packages—Collage, Drawing/Watercolor Workshop 
Saturday, April 29; 10am—3pm
Instructor(s): Cecy Rose
Artist Cecy Rose introduces a wonderful source of creativity – the accordion sketchbook.
These little hardcover mixed-media receptive books contain 18 thick paper panels that are perfect for drawing or painting. Collage materials, such as fancy papers or magazines, applied with acrylic gloss medium, provide for an interesting, whimsical, or abstract piece.
Choosing from subjects inspired by imagination or photographs, students are encouraged to push boundaries and enter a freeing, creative space. Color, line, and composition will be briefly discussed to give a foundation on which to begin. Reference photos will be provided for inspiration, but students are encouraged to bring their own photographic muses.
Sketchbooks, acrylic medium, and fancy, transparent Thai collage papers can be purchased from the instructor for $15/per set.
All materials are provided. Students may want to bring a painting apron or old shirt and an inexpensive 1" bristle brush for applying acrylic medium. (Limit 12)
Free. Donations Accepted. Pre-Registration Required.
Register online or call 304-242-7700.
Ink Tape & Magic Workshop
Saturday, May 6; 12:30-3:30pm
Instructor(s): Suzie Sparks
Discover a new media and technique through an exploration of sight and sound. The process involves aluminum plumber's tape, foam core, India ink, and a drawing/etching process. The result is a piece that looks like a cross between an etching plate and a piece of metal repoussé work. With this non-traditional media, students explore visual representations of music and the patterns and textures of sound in a visual language. All materials are provided. (Limit 12)
Free. Donations Accepted. Pre-Registration Required.
Register online or call 304-242-7700.
Precious Metal Clay Workshop (Sold Out)
Saturdays, May 13 and May 20; 10:30am-2:30pm
Instructor(s): Holly Dobkin
Precious Metal Clay is an amazing material that's worked like clay but is composed of metal powder and water-based binder, firing to pure silver with a kiln or torch. (Limit 8)
Free. Donations Accepted. Pre-Registration Required.
The Art of Aging exhibition and workshop series are sponsored by The Health Plan. This generous support allows us to offer these workshops to the public free of charge. However, donations are accepted to help further the mission of Stifel Fine Arts Center to connect and engage people of all ages and abilities in creative pursuits.
Stifel Center Art Exhibit Season
A vibrant public space accessible to everyone, the Stifel Fine Arts Center showcases the work of established and emerging artists. Year-round, changing exhibits encourage enjoyment and appreciation of visual art through direct engagement with original works in traditional and non-traditional mediums.
Exhibits provide a platform for critical thinking, stimulate learning about art and the creative process and challenge viewers to expand the definition of art and reflect on the role of art in society.
Exhibits are free and open to the public to tour.
About the Stifel Fine Arts Center
Housed in the historic Edemar Mansion, the Stifel Fine Arts Center is a treasure trove for artistic expression and personal fulfillment. As a public arts center, the community can enjoy our galleries, classrooms and performance spaces. Artists, art lovers, students, educators and families gather here to connect and engage in creative pursuits.
Tour our art galleries and see the work of local, regional and national artists. You can take a class in painting, pottery, jewelry making and more. Our classes and workshops provide knowledge and tools to explore the visual arts.
Attend a jazz concert, wine tasting, or craft beer event. The elegant setting is ideal for date nights and evenings out with friends.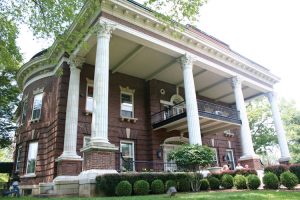 Time

April 13 (Thursday) 9:00 am - May 26 (Friday) 5:00 pm
Location

Stifel Fine Arts Center & School of Dance

1330 National Road, Wheeling, WV 26003