Oglebayfest is largest arts festival in the greater Wheeling area. The Artists' Market's goal is to attract the best artists and crafters from throughout the tri-state region (and beyond) – and the Gourmet Market to attract the best specialty foods!
Oglebay Institute will be coordinating the Markets and jurying the show. High standards have been established that each artist must meet to be accepted, thus ensuring the integrity of the show.
The Phil Maxwell Artists' and Gourmet Markets open the festival at noon on Friday. Saturday starts with the traditional Oglebayfest parade and ends with fireworks. The festival events continue through 5 p.m. on Sunday.
The Markets are located behind the historic Oglebay Institute Mansion Museum in scenic Oglebay Resort.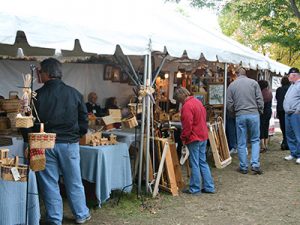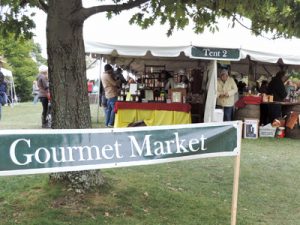 Eligibility
Artists' Market: This juried market is open to all artists who exhibit and sell work of original concept, design, and execution. Artist demonstrations are encouraged. No manufacturers representatives will be permitted to exhibit or sell at the Artist Market.
Gourmet Market: Items to be sold must be specialty food products that are not widely commercially available. The applicant must be the company owner or principal producer of the product(s) sold.
Up & Coming Artis Program: Offers artists with little to no experience in exhibiting at festivals free both space. See below for an application.
• No Commission on Sales
• Artist Dinner & Cash Awards
• Overnight Security (Thursday – Saturday)
• Booth Sitters
• Booth-side Loading & Unloading
Show Dates & Hours
October 1-3, 2021
Show Hours:
Noon – 7pm Friday, October 1
10am – 7pm Saturday, October 2
10am – 5pm Sunday, October 3
Set-Up Hours:
10am – 7pm Thursday, September 30
8am – 11am Friday, October 1
8am – 9am Saturday & Sunday, October 2 & 3
Show Requirements
All booths must be fully set-up and ready for customers by 12 p.m. on Friday, October 1.
Exhibitors must set-up and dismantle their own displays and be present during show hours. Failure to show or staff booth during show hours will make exhibitors ineligible for future participation.
West Virginia Consumer Sales Tax (6%) must be collected on all sales and remitted to the state. A "special events" tax form will be e-mailed and provided at check-in.
Accepted exhibitors who cancel after September 1, 2021 will forfeit booth fee.
Exhibitors agree to display, show and sell work of the same nature and quality as the images submitted for jurying.
Entry Process/Calendar
Entry applications must be submitted no later than May 31, 2021.
Applications must include ONLY five digital images, and one booth image, submitted via the entry form on this page. Each digital file should be saved as a JPG or GIF and tilted with the artist's last name and entry number (e.g. "Name- Image3.jpg"). Artists must include their full name and contact information.
A non-refundable application fee of $20 is required for each Market you wish to be participate in.
Jury results will be e-mailed on June 28, 2021.
Payment-in-full of all fees due upon acceptance into the Artists' or Gourmet Market(s).
Last day for refunds, if cancelling, is September 1, 2021.
For information contact Rick Morgan at 304-242-7700 (fax 7747) or via e-mail.