Earth & Fire: A National Ceramic Art Exhibition
fri24feb(feb 24)9:00 amfri31mar(mar 31)5:00 pmEarth & Fire: A National Ceramic Art Exhibition
Event Details

Earth & Fire is a national juried exhibition featuring a collection of pieces created from earth and fired for lasting form and beauty. The exhibit features artists from 29 states.

Offering $7,000 total in cash prizes, including a top prize of $4,000, the show is juried by ceramic artists Jen Allen and Richard "Duke" Miecznikowski.

In addition to viewing the exhibition, guests can shop the Pop Up Mug Shop for one-of-a-kind ceramic mugs created by featured artists.

Admission is free.

The exhibition continues through March 31. Regular gallery hours are 9am-5pm, Monday through Friday and 10am-4pm, Saturday. Admission is free.

Earth & Fire is as a part of Ceramics Take Over Wheeling—a citywide event that celebrates ceramic artists and clay enthusiasts alike. Various galleries in the "Friendly City" will showcase ceramic art during the months of February and March 2023. Click here to learn more.

Sponsored by United Bank.
Opening Reception
Join us at 6:30pm Friday, February 24 for the opening reception of Earth & Fire. Explore the exhibition, discover who the winning artists are, enjoy refreshments, and shop the Pop Up Mug Shop for one-of-a-kind ceramic mugs created by featured artists.
Admission is free for the opening reception.
Register online or call 304-242-7700 to attend the opening reception. RSVPs are appreciated, but not required. All are welcome.
Special Workshops
From Slab to Fab with Jen Allen
February 25, 2023; 10am – 4pm 
Stifel Fine Arts Center
This workshop focuses on transforming two-dimensional slab shapes (from templates) into three-dimensional pottery forms. Jen begins with demonstrations of various stamp making techniques to dress up the clay slabs. Then, moves into the development of forms including a cup, a pitcher, a jar, a butter dish, a flower vase, etc. Adding details such as handles, knobs, and spouts will also be discussed. The goal of this demonstration is to demystify using templates and pattern to build thoughtful, useful pottery.
Jen Allen earned a bachelor's degree in fine arts (2002) from the University of Alaska, Anchorage, and a master's degree in fine arts (2006) from Indiana University, Bloomington. From 1998-2002, she worked as a production assistant to Kris Bliss at Bliss Pottery in Anchorage, AK. In 2008, the National Council for the Education of Ceramic Arts (NCECA) recognized Jennifer as an "Emerging Artist." Among other awards, she was received the 2006-2007 Taunt Fellowship at the Archie Bray Foundation in Helena, MT. In addition to keeping a home studio, Jennifer teaches ceramic classes at West Virginia University. She lives in Morgantown, WV with her husband Shoji Satake, their two kids, Annelise and Finn, and their two dogs, Billie and Ella.
$105/$95 OI Members
Register online or call 304-242-7700.
Ceramic Workshop with Richard "Duke" Miecznikowski
March 11, 2023 ; 10am – 4pm 
Stifel Fine Arts Center
This one-day workshop with Richard "Duke" Miecznikowski is a demonstration of wheel-made pottery. He will demonstrate making and finishing a variety of wheel-thrown pieces. Demonstrations include some of the techniques in making functional as well as decorative work. There will be an opportunity for questions from the audience to dive deeper into his process and work.
Miecznikowski, who hails from the New Kensington and Natrona Heights area, has been making pots since graduating from Indiana University of Pennsylvania in 1967. Later, after graduating with a master's degree in fine arts from the College of Ceramics, State University of New York at Alfred and widely recognized as one of the nation's top ceramics departments, he took a teaching position at Fairmont State and Davis and Elkins colleges in West Virginia.
From 1976 to 1984, he made a living solely by making pottery at his studio in West Virginia. In 1988, he accepted a teaching position at Cal U. Through the years, Miecznikowski's pottery has been exhibited and collected throughout the United States, including a prestigious White House commission he received during the Carter administration.
$105/$95 OI Members
Register online or call 304-242-7700.
Special Events
Raku Firing
Wednesday, March 1; 12-5pm
Stifel Fine Arts Center
Join us and watch ceramic artist Rick Morgan conduct a Raku Firing on the grounds of the Stifel Fine Arts Center.
The Raku technique involves taking glazed ceramics from the kiln while they are still glowing red hot and placing them in a material that would be able to catch fire, such as sawdust or newspaper. This technique is used to starve the piece of oxygen, which creates a myriad of colors within the glaze.
Free.
Register online or call 304-242-7700. RSVPs are appreciated but not required. All are welcome. Come anytime between 12-5pm to observe this fascinating process.
Jen Allen & Richard "Duke" Miecznikowski Exhibit: Opening Reception
Thursday, March 9, 2023; 6-9pm
The Gallery at Towngate
These two renowned artists will be available for deeper discussion about their work. The exhibit continues through May 26, 2023.
Pottery Throw Down
Saturday, March 25; 6:30-8:30pm
Stifel Fine Arts Center
Come and watch four potters test their skills in different pottery challenges throughout the evening. Challenges include creating the tallest clay cylinder, widest clay bowl, blindfolded vase creation, and teacup speed challenge.
Hors d'oeuvres and cash bar will be included.
$20/$15 OI Members
Register online or call 304-242-7700.
Stifel Center Art Exhibit Season
A vibrant public space accessible to everyone, the Stifel Fine Arts Center showcases the work of established and emerging artists. Year-round, changing exhibits encourage enjoyment and appreciation of visual art through direct engagement with original works in traditional and non-traditional mediums.
Exhibits provide a platform for critical thinking, stimulate learning about art and the creative process and challenge viewers to expand the definition of art and reflect on the role of art in society.
Exhibits are free and open to the public to tour.
About the Stifel Fine Arts Center
Housed in the historic Edemar Mansion, the Stifel Fine Arts Center is a treasure trove for artistic expression and personal fulfillment. As a public arts center, the community can enjoy our galleries, classrooms and performance spaces. Artists, art lovers, students, educators and families gather here to connect and engage in creative pursuits.
Tour our art galleries and see the work of local, regional and national artists. You can take a class in painting, pottery, jewelry making and more. Our classes and workshops provide knowledge and tools to explore the visual arts.
Attend a jazz concert, wine tasting or craft beer event. The elegant setting is ideal for date nights and evenings out with friends.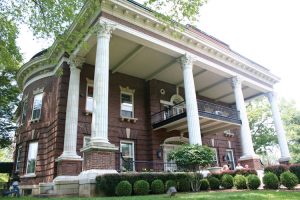 Time

February 24 (Friday) 9:00 am - March 31 (Friday) 5:00 pm
Location

Stifel Fine Arts Center & School of Dance

1330 National Road, Wheeling, WV 26003