thu12nov(nov 12)9:00 amwed23dec(dec 23)5:00 pmHoliday Art Show & Sale(november 12) 9:00 am - (december 23) 5:00 pm Stifel Fine Arts Center & School of Dance, 1330 National Road, Wheeling, WV 26003
Event Details

Buy local and escape the hustle & bustle of retail holiday shopping by visiting Oglebay Institute's Holiday Art Show & Sale, open November 12 through December 23 at the Stifel Fine Arts Center and Schrader Center in Oglebay.

This annual shopping experience showcases the talent of dozens of regional artisans and crafters offering one-of-a-kind gifts for the holidays. Shop hundreds of unique items including pottery, paintings, photography, jewelry, textiles, home décor and gourmet goodies. Different items and artwork fill each location.

Sponsored by United Bank.
Holiday Art Show & Sale hours:
Open 9 a.m. to 5 p.m. Monday – Friday and 10 a.m. – 4 p.m. Saturday at the Stifel Fine Arts Center at 1330 National Road in Wheeling. Open during scheduled events and classes.
Open 10 a.m. to 5 p.m. Monday – Saturday & noon to 5 p.m. Sunday at the Schrader Center in Oglebay Park.
Closed Thanksgiving Day.
Click here for exhibiting information.
2020 Vendors:
Stifel Center:
Sweetest Inspirations (painting, mixed media)
Burke Design Studio (ceramics)
Simply Susan Dolls (Mixed Media)
Lydia's Handcrafted Design
Toucan Design (Mixed Media)
Bellaroses (mixed media, clothing/fiber)
Log cabin basketry (wood)
Mountain Mama Pottery (ceramic)
Hiromi Katayama (painting)
Pane in the Glass (glass)
Art MaDDers Workshop (painting/mixed media)
BOB'S WOOD TURNING (wood)
Jane Seward (painting)
Wild Lotus Studio (jewelry)
Photography as a Fine Art by Jay Stock (photography)
KARADONNA Artisan Jewelry (jewelry)
Uncle Buck's (gourmet food)
Jes Reger (painting)
Robert Villamagna (Mixed Media)
Bill McCormick (Ceramic)
Nicola Merriman (Jewelry/graphics/drawing)
Debi Smith (other)
David Rinkes (Wood)
Iconic Jewelry (jewelry)
Kelly Gaudio (painting/jewelry/graphics)
Rodney Groce (wood)
Robert Joseph (ceramic)
Judith Kajder (mixed media)
Schrader Center:
Create a Stir (Wood/Gourmet Foods)
Buffalo Creek Art Gallery (Painting, wood)
The Pretty Pickle (Jewelry)
Aunt Kimmies Homemade Jams and Jellies and Relishes (gourmet foods)
Earthsmith Studio (ceramic)
Inn Retrospect (mixed media)
Pam's Pots (ceramic)
Lippencott Alpaca's (Clothing/fiber)
Photography by Harvilla (photography)
Annie's Hands (clothing/fiber and wood)
Family Roots Farm (gourment food)
Petyk Customs (wood)
Art by Janet Lynn (painting/jewelry)
Possum Products, LLC (wood)
Mountain State Essentials (wood)
Art by April Ryan (Painting, printmaking, mixed media, sculpture)
Cecile Harris (ceramic)
Sue Smith (painting)
Carol's gourdgeous gourds (mixed media)
Crest Hill Jewelry (jewelry)
Saunders Farm (other)
B. Woven (clothing/fiber)
Stifel & Schrader Center:
Images in Bloom (Clothing, Fiber)
DW and Co. Leathers (jewelry)
Yardscape LLC (mixed media)
Bev Beatty (painting/jewelry/fiber/glass/wood)
The Stifel Center Art Exhibit Season
A vibrant public space accessible to everyone, the Stifel Fine Arts Center showcases the work of established and emerging artists. Year-round, changing exhibits encourage enjoyment and appreciation of visual art through direct engagement with original works in traditional and non-traditional mediums.
Exhibits provide a platform for critical thinking, stimulate learning about art and the creative process and challenge viewers to expand the definition of art and reflect on the role of art in society.
Exhibits are free and open to the public to tour.
More about the Stifel Fine Arts Center
Housed in the historic Edemar Mansion, the Stifel Fine Arts Center is a treasure trove for artistic expression and personal fulfillment. As a public arts center, the community can enjoy our galleries, classrooms and performance spaces. Artists, art lovers, students, educators and families gather here to connect and engage in creative pursuits.
Tour our art galleries and see the work of local, regional and national artists. You can take a class in painting, pottery, jewelry making and more. Our classes and workshops provide knowledge and tools to explore the visual arts.
Attend a jazz concert, wine tasting or craft beer event. The elegant setting is ideal for date nights and evenings out with friends.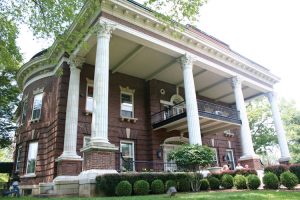 Time

November 12 (Thursday) 9:00 am - December 23 (Wednesday) 5:00 pm
Location

Stifel Fine Arts Center & School of Dance

1330 National Road, Wheeling, WV 26003
Organizer
Oglebay Institute304-242-7700