thu20jan(jan 20)9:00 amsat26feb(feb 26)5:00 pmRegional Student Art Exhibition(january 20) 9:00 am - (february 26) 5:00 pm Stifel Fine Arts Center & School of Dance, 1330 National Road, Wheeling, WV 26003
Event Details

Oglebay Institute's Regional Student Art Exhibition at the Stifel Fine Arts Center showcases the talent and creativity of  high school students in the tri-state area.

On display through February 26, this long-running exhibition also recognizes student's artistic achievements. Young artists submit hundreds of pieces which are juried for selection into the show. Students are then awarded cash prizes in the categories of painting, photography, drawing and 3D. The exhibition also provides a foundation for future success with scholarships to major universities.

Open 9am-8pm Monday through Thursday; 9am-5pm Fridays and 10am-4pm Saturday. Free admission.

Sponsored by United Bank.
Stifel Center Art Exhibit Season
A vibrant public space accessible to everyone, the Stifel Fine Arts Center showcases the work of established and emerging artists. Year-round, changing exhibits encourage enjoyment and appreciation of visual art through direct engagement with original works in traditional and non-traditional mediums.
Exhibits provide a platform for critical thinking, stimulate learning about art and the creative process and challenge viewers to expand the definition of art and reflect on the role of art in society.
Exhibits are free and open to the public to tour.
2021-22 Exhibition Season:
About the Stifel Fine Arts Center
Housed in the historic Edemar Mansion, the Stifel Fine Arts Center is a treasure trove for artistic expression and personal fulfillment. As a public arts center, the community can enjoy our galleries, classrooms and performance spaces. Artists, art lovers, students, educators and families gather here to connect and engage in creative pursuits.
Tour our art galleries and see the work of local, regional and national artists. You can take a class in painting, pottery, jewelry making and more. Our classes and workshops provide knowledge and tools to explore the visual arts.
Attend a jazz concert, wine tasting or craft beer event. The elegant setting is ideal for date nights and evenings out with friends.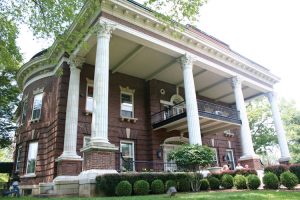 Time

January 20 (Thursday) 9:00 am - February 26 (Saturday) 5:00 pm
Location

Stifel Fine Arts Center & School of Dance

1330 National Road, Wheeling, WV 26003
Organizer
Oglebay Institute304-242-7700