fri18mar(mar 18)9:00 amsat30apr(apr 30)5:00 pmVirtual EventRobert Singleton Exhibition(march 18) 9:00 am - (april 30) 5:00 pm
Event Details

The Tamarack Foundation for the Arts and Oglebay Institute's Stifel Fine Arts Center in Wheeling honor TFA's Master Artist Fellow Robert Singleton's work and artistic contributions with a virtual gallery exhibition of his Sixty Year Retrospective.

The exhibit will be available for online viewing from March 18-April 30.

Website visitors can explore four separate online galleries of Robert's work

Gallery I Florida 1963 ~ 1974
Gallery II Screamer Mountain 1973 ~ 1978
Gallery III West Virginia 1978 ~ 2012
Gallery IV West Virginia 2012 ~ 2022

Click here to visit the virtual galleries, beginning March 18.
About the Artist
Robert Singleton, a West Virginian by choice, has been painting from his remote mountaintop home in picturesque Hardy County for more than 40 years. A nationally recognized artist, Singleton moved to West Virginia in 1978 in search of privacy, time, and space.
His early work focused on abstract expressionist imagery, juxtaposing organic and geometric elements. In recent years, Singleton says, the dedication of his work has been "to the joy and poetry of light in the form of clouds," the shape of which is "an abstract, ever-changing vessel for me to transport light and shared astonishment and hopefulness that come from within."
His work is represented internationally in prestigious private and public collections. In 2022, Singleton was named a Master Artist Fellow by the Tamarack Foundation for the Arts. The fellowship celebrates master artists for a lifetime of achievement in the arts in West Virginia. Their exemplary work leads the way in artistic creation and expression and models what it takes to live your life as a successful artist in the Mountain State. Singleton is the 24th artist to receive this prestigious fellowship.
Currently, Singleton's life is also the subject of a documentary by AMP Media and WestVirginiaVille.
Singleton's retrospective memoir, "The Core of My Joy," is available for purchase at The Gallery Studio in Thomas, West Virginia or online at Singleton's website.
The exhibition is part of Oglebay Institute's season of changing art exhibits, which is sponsored by United Bank.
The Stifel Fine Arts Center is open 9am-5pm Monday through Friday, 10am-4pm Saturday and during all classes and public events.
Stifel Center Art Exhibit Season
A vibrant public space accessible to everyone, the Stifel Fine Arts Center showcases the work of established and emerging artists. Year-round, changing exhibits encourage enjoyment and appreciation of visual art through direct engagement with original works in traditional and non-traditional mediums.
Exhibits provide a platform for critical thinking, stimulate learning about art and the creative process and challenge viewers to expand the definition of art and reflect on the role of art in society.
Exhibits are free and open to the public to tour.
2021-22 Exhibition Season:
About the Stifel Fine Arts Center
Housed in the historic Edemar Mansion, the Stifel Fine Arts Center is a treasure trove for artistic expression and personal fulfillment. As a public arts center, the community can enjoy our galleries, classrooms and performance spaces. Artists, art lovers, students, educators and families gather here to connect and engage in creative pursuits.
Tour our art galleries and see the work of local, regional and national artists. You can take a class in painting, pottery, jewelry making and more. Our classes and workshops provide knowledge and tools to explore the visual arts.
Attend a jazz concert, wine tasting or craft beer event. The elegant setting is ideal for date nights and evenings out with friends.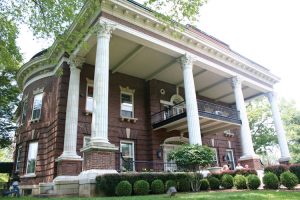 Time

March 18 (Friday) 9:00 am - April 30 (Saturday) 5:00 pm
Organizer
Oglebay Institute304-242-7700
Virtual Event Details
RUN
Event has already taken place!