Society of Animal Artists "Art and the Animal" 63rd Annual Exhibition
fri11aug(aug 11)9:00 amsat28oct(oct 28)5:00 pmSociety of Animal Artists "Art and the Animal" 63rd Annual Exhibition
Event Details

View a collection of the best animal art in the world at Oglebay Institute's Stifel Fine Art Center in Wheeling, West Virginia.

Art and the Animal, the Society of Animal Artists' 63rd Annual Exhibition, is on display August 11-October 28, 2023.

Ranging in style, media, size, and technique, artworks portray mammals, birds, reptiles, and aquatic life from places both exotic and familiar, revealing the rich diversity of creatures that inhabit our planet.

Artworks created by the SAA members have established new standards of excellence in fine art, and the annual exhibition has become the standard by which all others are measured.

Stifel Fine Arts Center was selected as the premier venue for Art and the Animal and is exhibiting all 117 pieces selected by the voting members of the Society from hundreds of artworks submitted by its international members. Following the close of the of the exhibition at Stifel, 60 of the artworks will go on tour to galleries across the United States.
Join Us for Art and the Animal Receptions
Opening Reception
6:30-8:30pm; Friday, August 11
Free and open to the public.
Register at OIonline.com or call 304-242-7700 to attend the opening reception. RSVPs are appreciated, but not required. All are welcome.
Reception with SAA Artists
6:30-8:30pm Friday, October 13.
Exclusively for Oglebay Institute members & special guests
OI members and invited guests can meet and mingle with more than 60 members of the Society of Animal Artists during a special reception and awards ceremony.
Register at OIonline.com or call 304-242-7700 to attend the artists reception.
Gallery Hours
9am-5pm Monday-Friday; 10am-4pm Saturdays
Beginning September 11: 9am-8pm Mon-Thurs; 9am-5pm Fridays and 10-4pm Saturdays
Admission is free.
Sponsored by  United Bank.
View the Exhibition Online
Click here to view the online exhibition.  You can also download the Art and the Animal exhibition catalog here.
Workshops & Special Events
Birds in Watercolor Workshop with Jes Reger Davis
Saturday, August 19; 10am–3pm; $65/$60 OI Members
Register online or call 304-242-7700.
Immerse yourself in creative exploration of the natural world in watercolor. In this workshop, Jes shares some of her favorite tips and tricks to paint loose, expressive birds in watercolor. Students will be provided supplies, guidance, and a communal space to create reference photos.
While supplies and reference photos will be available, student are encouraged to bring photos and any supplies they may have to create a personal work of art.
About the Instructor
A 2020 Tamarack Emerging Artist Fellow recipient, Jes Reger Davis is a watercolorist and teaching artist based in Wheeling, West Virginia. Along with her husband and dog, she travels in and around West Virginia painting all its rugged beauty. In 2018, she opened her home studio, The Painter's Nest, where she teaches private watercolor classes. She currently teaches beginner's and intermediate watercolor at Stifel Fine Arts Center and has worked as an artist in residence for the Rural Arts Collaborative.
She received a grant through the West Virginia Department of Arts, Culture, and History and the National Endowment for the Arts to teach a traveling nature in watercolor workshop in five small towns in West Virginia during the spring and summer of 2022. Jes has been exhibiting her work since 2015 in numerous juried exhibits throughout West Virginia. She has won numerous awards for plein air painting.
Dog Meet & Greet Event with The Road Home Animal Project
Saturday, September 9; Noon–3pm; Free
Come and meet some of the foster dogs in the care of The Road Home Animal Project volunteers, learn more about the organization and ways you can get involved.
The Road Home Animal Project, aka TRHAP, is a 501(c)(3) nonprofit organization serving the Tri-State (OH, PA, WV) Area with a primary mission to help animals in need. TRHAP is a volunteer and foster based organization only, meaning the organization has no specific facility but volunteers work out of their homes to provide foster care, rehabilitation, evaluations, socialization, and training for those animals in need. They educate animal owners on the proper care of their animals, as well as partnering with shelters and nonprofits to place at-risk animals into loving, forever homes.
Animal Painting Workshop with Kim Freithaler
Saturday, September 23; 9:30am–3:30pm; $75/$70 OI Members
Register online or call 304-242-7700.
This one-day workshop is open to oil or acrylic painters with some painting and drawing experience. Newer artists will concentrate on compositions, lighting, and palettes that lead to a good painting. More experienced artists can refine their painting skills and concentrate on nuances of fur, expressions, and poses.
This workshop will cover choosing the right reference material, features, and textures such as fur. Lighting and composition will also be discussed. Demonstrations will be given, followed by individual instruction. Participants will learn the techniques necessary for a successful animal painting.
Please bring at least one animal photo that you would like to paint. Several are better. Make sure there is enough detail to use. Bigger is better! An 8×10 blow up helps. The materials list provided is a suggestion. If you have paint supplies that you are comfortable using, just bring them. No worries here. Virtually everything we mix will make brown!
About the Instructor
Kim Freithaler is originally from New York City and has a bachelor's degree in fine arts from St. John's University, where she completed an internship at the Metropolitan Museum of Art. She has also studied at the Art Students League in Manhattan.
She taught art in Manhattan public schools and currently teaches painting at the North Hills Art Center in Pittsburgh, Pennsylvania, where she is the Executive Director.
She is an award-winning painter who exhibits her work in galleries, as well as local businesses. Her murals are installed in public buildings both here and in Georgia. Oil portraits are done by commission.
David Rankin Shape Sketching© Workshop
Saturday, October 14; 1–4pm; $90/$85 OI Members
Register online or call 304-242-7700.
Sketch birds and animals in a special artist workshop with drawing master David Rankin.
Try Rankin's unique Shape Sketching© procedures that he uses to sketch birds and animals around the world. Bring a sketchbook and two different kinds of graphite pencils—a 9B woodless graphite pencil and a 2B pencil. Learn this amazing sketching procedure from one of the world's most celebrated watercolor painters and animal artists. Sketch birds and animals of all kinds in a more enjoyable and effective way.
About the Instructor
David Rankin is a professional watercolor painter. He is a graduate of the Cleveland Institute of Art and a successful author and lecturer. His watercolors have been featured in numerous watercolor books & magazines and in many one-man exhibitions and more than 60 museum exhibitions across North America as well as in Japan and Sweden.
David is one of the true modern-day masters of transparent watercolor, and he exudes a dynamic passion for the medium in his lectures, demos, and class instruction as well as in his own studio or field work. He is one of the most effective watercolor teachers in the world today.
Pet Costume Contest and Halloween-themed Pet Photography Portraits
Saturday, October 21; Noon–3pm
Bring your pet dressed in their best Halloween costume and enter them into our Pet Costume Contest on the front lawn of Stifel Fine Arts Center for a chance to win a fun pet themed basket of goodies. You can also purchase a beautiful Halloween-themed pet photography portrait that will give you an enduring reminder of joy your pet brings. Photos will be taken by Scott McCloskey for $15.00 per session. Spaces for pet portraits are limited. You must register in advance for a time slot and arrive at your scheduled time.
Register online for Pet Portraits or call 304-242-7700.
Stifel Center Art Exhibition Season
A vibrant public space accessible to everyone, the Stifel Fine Arts Center showcases the work of established and emerging artists. Year-round, changing exhibits encourage enjoyment and appreciation of visual art through direct engagement with original works in traditional and non-traditional mediums.
Exhibits provide a platform for critical thinking, stimulate learning about art and the creative process and challenge viewers to expand the definition of art and reflect on the role of art in society.
Exhibits are free and open to the public to tour.
2023-23 Stifel Exhibition Season
Society of Animal Artists "Art and the Animal" 63rd Annual Exhibition
August 11–October 28, 2023
Holiday Art Show and Sale
November 10–December 22, 2023
35th Annual Regional Student Art Exhibition
January 11–February 9, 2024
Earth & Fire 2024
February 23–March 29, 2024
Crosscurrents 2024
April 11–June 14, 2024
Bicycle, Bicycle!
June 28–August 23, 2024
About the Stifel Fine Arts Center
Housed in the historic Edemar Mansion, the Stifel Fine Arts Center is a treasure trove for artistic expression and personal fulfillment. As a public arts center, the community can enjoy our galleries, classrooms and performance spaces. Artists, art lovers, students, educators and families gather here to connect and engage in creative pursuits.
Tour our art galleries and see the work of local, regional and national artists. You can take a class in painting, pottery, jewelry making and more. Our classes and workshops provide knowledge and tools to explore the visual arts.
Attend a jazz concert, wine tasting, or craft beer event. The elegant setting is ideal for date nights and evenings out with friends.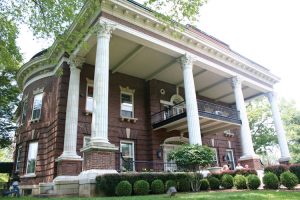 Time

August 11 (Friday) 9:00 am - October 28 (Saturday) 5:00 pm
Location

Stifel Fine Arts Center & School of Dance

1330 National Road, Wheeling, WV 26003